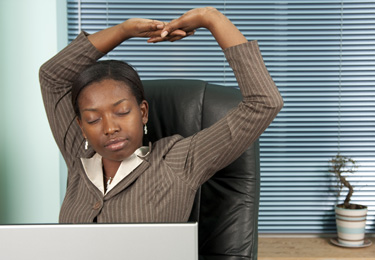 In the era of the office job, we do a lot of sitting. Research shows that too much sitting has negative health effects such as weight gain, joint and posture problems, eyestrain and low energy -- and can even increase the risk of developing diabetes.
Stand Up For Change
Leading uber-companies such as Google and Facebook have designed standing desks for their employees in an effort to promote circulation and encourage movement throughout the day. But what about the rest of us?
Short of quitting your desk job, luckily there are lots of things you can do -- no matter how busy you are — that can give your body some much-needed exercise and increase job productivity. Here are 5 simple steps to stay healthy while seated.
Get Up and Move
If you work at a multi-level building, take the stairs, not the elevator. If you need to use the restroom, walk to the facility farthest away from your desk, or take a detour that will add a few minutes of walking to your trip. And when arriving at work, park your car several blocks (at least) from the entrance.
Connect in Person
Instant Messenger, emails and phones facilitate time management, but don't encourage physical movement at work. Instead of emailing or IM-ing coworkers, walk to their desk. If a short meeting is at hand, suggest walking to an outside seating area, if weather permits. Not only can you grab some quick exercise this way, you'll probably get more out of the meeting by talking with others outside the confines of the office.
Work Out at Your Desk
On those super busy days, use your desk as a portable workout station. While reading emails, stand up and stretch your arms, shoulders, do side bends, even leg lunges if possible. You may get some weird looks from your co-workers, but the health benefits are worth it. You can also do leg extensions while seated by extending your legs in front of you so they are parallel to the ground, then flex and point your toes. And if you're really feeling inspired, there are mini stair-steppers that fit great under small desks.
[Read: Try These Awesome Lunch Break Exercises]
Eat Healthy and Energizing Snacks
Eating healthily is important in general, but when you're sitting for the majority of the day, you need to make every calorie count. Vending machines are bad because they are loaded with empty-calorie, high-fat food. Your body uses (on average) one calorie a minute when you're sitting down. Plan ahead by packing healthy things to munch on the night before. Cut up bite-sized fruits and veggies, and opt for pretzels, string cheese, even a hardboiled egg to keep up energy levels and regulate your blood sugar.
Stay Hydrated
Don't forget to drink as much water as possible throughout the day. This will help with hydration and will periodically encourage you to get up and walk to the restroom.
Focus on Your Eyesight
Studies suggest that vision problems for long-term office workers are twice as likely to occur vs. other occupations, due to staring at a computer screen for 8 hours a day. The condition even has its own name: Computer Vision Syndrome. To combat this, be sure to look away from your computer screen at least every 20 minutes or so and focus on something else. Also, adjust the brightness and contrast on your computer screen. Most screens are set to be much brighter (and therefore more damaging on your eyes) than they need to.
Pay Attention to Your Posture
Right now, look at how you're sitting. Are you sitting straight with shoulders erect, or are you slouching sideways in your chair or leaning forward propped on your desk? Chances are, it's one of the latter two, and these positions can wreak havoc on your back muscles and posture. To find the best sitting positions, do a simple Google search. And make sure that you have a chair that facilitates good posture. An un-ergonomic chair should be switched out for a better one, or at least add back support cushions—your HR department can help you with this.
Remember, don't just do these new found initiatives when the mood strikes—it's best to experiment with what you can do realistically and then make a regular routine out of it. Even the smallest of steps, literally, can increase your energy, productivity, and even add years to your life. And that's something to stand up for.