This week, we're joined by Ninette Terhart, Health Professional, award-winning bodybuilder and certified Personal Trainer, who has some sound advice for you on how to improve your overall fitness without even leaving the office. Take it away, Ninette…
---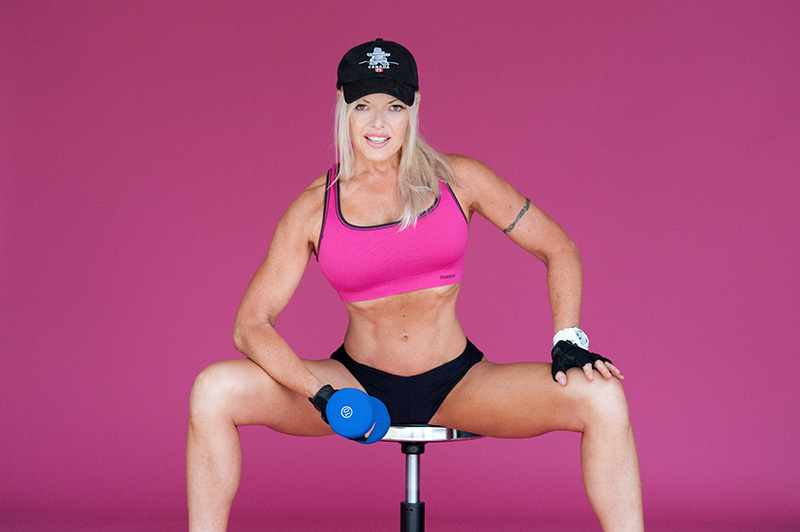 How to Stay Fit at the Office: Top Tips From a Health Professional
By Ninette Terhart
Does this sound familiar? It's New Year's Eve. You're hanging with your favorite peeps. You're feeling good! Alive! Ready to conquer the world! You stand up and, with all your buddies there as witness, you cry out, "This is the year! I'm going to start working out! I AM! I'm really doing it this time!"
Time passes and you realize it's February and, well . . . the gym hasn't even entered your mind, let alone the idea of going to one. But there's no need to fear, my resolution solution is here!
Let's face it. Life is busy. You've got work, kids, family, pets… and well, the list goes on. Let's take a closer look at the first one: work. If you spend your work days in an office or in any other traditional work environment, you my friend, might see just a desk, an office chair, or a bathroom as having one purpose only. My goal is to get you to see a potential haven of health and wellness opportunities just waiting to be utilized!
Let me share some excellent ways to improve your health and fitness, and "stay on it . . . even at the office!"
First Great Way: Office Chair Ups and Downs
This one rocks because you target all the major muscle groups of your legs and it helps to give a perky lift to your glutes. Here's how:
1. Sit a little closer to the edge of your office chair- at least a foot away from your desk.
2. Kick your high heels off for this one! Position your knees about hip width apart and make sure your feet are directly under your knees to create a 90 degree angel at your knee joint.
3. Drive your weight into your heels and stand up... slowly. Squeeze your glutes tight at the top of the stand position then sit back down in your chair... softly, so as not to wake your manager.
4. Repeat. Seriously. Repeat. 3 sets of 10 of these every day. Trust me, you will soon see a difference in your legs and behind!
Second Great Way: Get Off Your Tush, and Swush!
This means utilize any chance you get to walk more frequently around your work space.
For example:
• Park further away from the entrance.
• Take the stairs instead of the elevator.
• Make more trips to the water cooler or coffee machine.
• Volunteer to make a weekly trip to the office supplies store, and walk there if it's close.
• If you work in a tower block, take the stairs to the ground floor and walk back up again every few hours.
• Set your smartphone alarm to go off at 2, 3 or 4 hour intervals. When your alarm goes off, take a ten minute break, go outside and walk around the block.
These tips can be implemented simply in your workday and you will be surprised just how many calories you will burn when you increase your total steps taken per day. Over the course of the year, every extra step adds up!
If you need extra motivation and would like to track your progress, buy a cheap pedometer and clip it to your belt every day. You can purchase these on eBay for less than ten bucks. If you have a group of like-minded friends at work, try organizing a regular competition to see who can log the greatest number of daily or weekly 'extra' steps. The winner each week gets a prize, such as having the rest of the team cover their lunch next time your group eats out (at a healthy restaurant, I hope!)
Tip: Try packing your sneakers to take to work so you can be more comfy as you implement this new regime. Keep them under your desk ready for a quick change.
Third Great Way: Restroom Get-Away
Net time you visit the restroom at work after a few too many cups of coffee, take a few extra moments to breathe deeply and do some stretches while you have some actual privacy. I know this might sound weird at first, but stay with me and I think you'll see where I'm going with this.
Whilst sitting in the stall, take a deep breath in (hopefully the restroom you're in is clean and relatively odor free!) Next, exhale, long and slowly. Visualize any negative energy leaving your body. Repeat the deep breath in and focus on positive energy entering your body and then breathe out. Feel free to repeat this as long as you need. You will feel lighter and calmer as you go through your day.
IN FACT, THREE MINUTES OF DEEP BREATHING CAN OFTEN COMPETE WITH THE BEST OF BLOOD PRESSURE MEDICATIONS.*
*Check with your doctor before stopping or starting any medication – always.
Fourth Great Way: Wall Stretch
Next time you've alone in the kitchen or corridor, stand with the right side of your body about a foot or so away from the wall. Place your right hand up as high as you can reach on the wall, palm against the wall. Lean your hip into the wall while your hand stays firmly in place then come back to neutral position. Repeat on the left side. Breathe deeply with these side body stretches.
This is a wonderful way to keep the blood flowing in your body, which helps your metabolism and other important bodily functions move for efficiently.
Fifth Great Way: Food For Thought
The BIGGEST part of any weight loss or weight maintenance regime is based on what you eat!
You can jump up and down, run the stairs or lift weights as much as you want - but, if you eat pizza, burgers and fries all day, it won't matter, and your health will still suffer. Exercise should be thought of as part of a healthy lifestyle, not a 'free pass' or cure-all than means you can eat whatever you please and not pay for it in terms of health later. You have to support your physical activity with nutrition that supports your goals!
Planning ahead and doing some serious meal prep is a brilliant way of doing just that. It can get tricky when you're invited out for lunch at work or someone brings in a box of your favorite donuts. But stick with it.
To resist temptation, try packing your lunch and healthy snacks for your workday the night before. It really takes the guess work out of the "What should I eat for lunch?" question. And, you'll know how many calories you're consuming if you start to read and track food labels and nutritional facts. (If you are counting calories, always make sure to check how many servings are in the item to calculate the totals correctly).
If you want to go one step further, take a few moments out of your day and search all the places you can eat at around your work, and see how many calories are in the dishes you enjoy. This will make counting your daily calories much easier and help you best stay on track.
Sixth Great Way: H20 is the Way to Go!
As an adult, our bodies are between 60% to 65% water! That's a high percentage! Do yourself a big favor and remove the soda and other sugar-filled beverages from your workday, replace with water, and BAM! You will feel and see the difference.
There are so many reasons why: water aids in more effective digestion, flushes body waste, delivers oxygen throughout the body, lubricates all your joints and regulates body temperature through sweating and respiration. All these and more will help you lose weight, maintain lean body mass, and assist in experiencing a healthy relationship with your body.
Always remember: "Your Health is Your Wealth!
- Health Professional, Los Angles, California.
- Personal and Group training.
- Rehabilitation.
- Certified Reiki specialist and Massage Therapy.
- 
YourHEALTHwithHART.com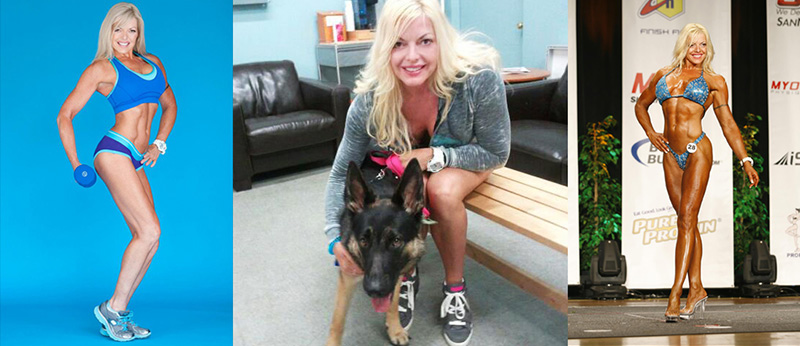 ABOUT THE AUTHOR
Ninette Terhart is an award-winning health professional based in Los Angeles, CA. She is a columnist for IRON MAN magazine, and recently fulfilled a life-long ambition to compete as a professional body-builder, winning contests such as Miss Universe UNBA 2011, NPC Physique winner 2012, and NPC Iron Man Physique winner 2013.  She is certified in Canada and the US as a professional Fitness Trainer, with over 2 decades of experience in training with free weights, chords, ball, slide trainer, step, hoop, trampoline, body bar, kick boxing, yoga, aquatic aerobics, body roller and nutrition. Ninette is also a professional Cirque Aerial Acrobat and holds an array of aerial talent on Tissue, Hoop, Hammock and Spanish Web.  In her free time, Ninette enjoys entertaining with her multitude of talents in Stilt Walking, Pole Instruction, the Performing Arts, and Fire Breathing.