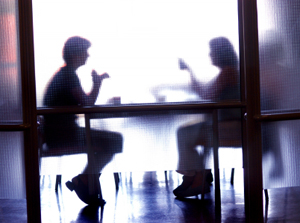 A single un-shaded light hung from the ceiling over a small table where two ghostly figures sat, their voices low, a faint murmur. The figures stared across the table at each other, occasionally leaning forward with raised voice to press home a point.  Cigarette butts littered the small room, smoke hung in wispy layers disturbed only when one of the men moved…
If this is your idea of how negotiations are held, it is time to change your mind…
Congratulations. You have an offer in hand. Now what?
Once you have received the offer, you really have two options:
Accept the offer, take the drug test, and schedule a start date, or
Present a counter offer that is higher or different than what has been offered
Regardless of your choice to accept or negotiate, it is not uncommon for a candidate to take 24 to 48 hours to consider the offer before acceptance.  If you have decided to negotiate for a better compensation package, do not wait until the end of the acceptance period to offer your counter.
Keep in mind that this is a total compensation package and should be reviewed as such. Look at the ENTIRE package and avoid focusing on one or two items that are not up to your expectations. Make sure that you do not walk away from a great career opportunity for a difference of a few dollars, or days off, or a mediocre dental plan. Consider all of these factors before you decide to negotiate.
Negotiating is only slightly different than the rest of the interviewing process; there is a problem on the table and you are trying to understand it and offer a viable and attractive solution. As you discuss the problem you should always work to present a professional and attractive solution.  Avoid appearing self-serving, greedy, or unreasonable.  Listen to their side, discuss both sides, and resolve the issue to the benefit of both parties.
With this in mind, we can distill the negotiation topic down to several important concepts that will benefit you as you discuss the changes that you wish to offer:
Never Make The Negotiations Personal Or Take The Negotiations Personally
You should always remember that the offer has little to do with you personally. The offer is a basic business transaction that involves payment for services YET TO BE rendered. The salary, perks, and benefits reflect the value of the services that they have perceived will be delivered, not how they perceive YOUR value as a person or how that value may change in the future.
Always Be Professional As You Discuss Your Counter Terms
By being well prepared and clear in your value proposition, it will be much easier to approach the negotiations in a professional manner. Your discussion should be clear, concise, and credible. As in the interview, you should present a clear and attractive case for each of the terms you wish to change.
Never Negotiate If You Are Not Willing To Walk Away
This is one of the hardest rules to follow.  You need to be absolutely clear to yourself that if the terms that you want are not met, you will turn down the offer.
Always Have Issues That You Are Willing To Cave On If Necessary
List, in priority the changes that you wish to make. Be willing to acquiesce or 'cave' on some, hopefully the least important ones to you, in exchange for others. "I can accept A, if we can increase B."
Be Clear To Yourself What Your Acceptable Limits Are Before You Begin The Negotiation
As you prepare before the conversation, make sure that you have set your limits clearly and concisely. Do not ask for something that is way beyond what is reasonable. Set your 'meet in the middle' limits.
Don't Stretch the Negotiations out
Do not stretch the negotiations out. The hiring manger does not want to keep going back to his manager with yet another change. Remember, he or she is your champion to management and is representing you. You should never abuse that relationship. If they feel that you are being unreasonable, this may turn into a 'is this person really worth it?'.
After it is all said and done, you need to close the discussion on a positive, upbeat note. When the final offer is tendered, accept it with enthusiasm, set a start date, and let them know how enthused you are about working with XYZ Corporation.