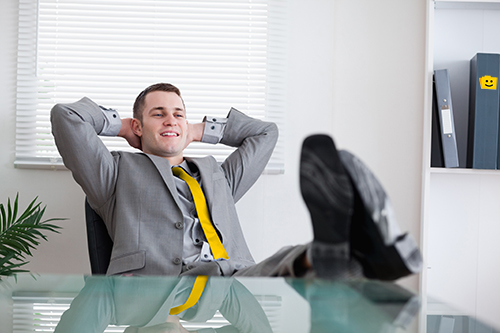 So, you're the new boss? Sweet! As a young boss, this transition period can be a little nerve-wracking. You might get a lot of "wait, how old are you?" looks from executives or even your own team members.
Young people are zooming into higher positions pretty fast. "Thirty-four percent of U.S. workers say they are older than their bosses, and 15 percent say they work for someone who is at least 10 years younger," according to a report by AOL jobs.
In our information-driven economy, seniority is no longer a large deciding factor for promotions, and it's your skills, performance and leadership qualities that are boosting young folks into higher positions fast. Meanwhile, more and Baby Boomers are working well into their golden years, NBC News reports.
So, how do you manage as a young boss when there's a generational gap? We spoke with several successful professionals who found themselves in a management level position at a young age. Here's what they have to say about what it takes to make it as a young boss:
1. Control How you are Perceived (Your Personal Brand)
"Make sure that you have your LinkedIn profile hyperlinked to your name in your email signature so that prospective customers or clients can see your true background and immediately put a professional and friendly face to your name," says Mike Olivas, who founded his company T.E.A.M. at just 27-years-old.
It's all about creating a personal brand of intelligence, professionalism and strong leadership.
Pro tip: To ensure you're being taken seriously from consumers and colleagues, make sure you Clean Up Your Online Identity and Protect Yourself from the Recent Facebook Update!
2.  Find a Healthy Balance between Tyrannical & Best Friend
"It seems that there's two common approaches younger people with power take:  The power trip, where they lord their position over others and the best friend, where they downplay their position to a ridiculous degree," says Aly MacGregor, 26-year-old president of Reicura, an international creative agency, who has been presiding for years.
Both are a quick way to lose respect. Lead from the trenches and be sure to give credit when it's due, but keep things professional. This means, try not to get too personal with your team, and definitely don't go bar hopping with your team to celebrate that huge deal.
Not everyone will like you, and that's okay. As a general rule of thumb: it's better to be respected than liked.
3. You've Earned it, Own it
If you're finding it hard to get others take you seriously, you may not be projecting enough confidence. "You are in your position because of your skills, strengths and successes. So you've earned the right to lead others, in spite of your age," MacGregor says.
When you own your success, others will believe it too. Feeling undeserving of your success is actually more common than you might think.
As Forbes once reported, even presidents of major marketing companies go through this phase of feeling like a fraud.
So, when you're a young boss, it can be easy to slip into this negative, dark hole. The number one solution is to fake it 'till you make it! Check out practical tips on handling imposter syndrome.
4. Approach a Mature Mentor
Asking others for advice on matters they are more experienced in shows courage, intelligence and strong leadership.
For instance, when Daniel Pullin, 37, began his term as the interim dean of the business school at the University of Oklahoma, he "made an effort to reach out to every faculty member in the college seeking their advice and counsel on how I could be most successful in my new role," he tells us. This resulted in strong relationships, respect and a wealth of crucial knowledge. Win, win and win!
5. Build Credibility by Listening
"Remember, as the boss you may have the authority but not the power to get things done. Power comes from credibility. Credibility comes from performance. Performance takes time," says Steve Langerud, workforce consultant, who has helped over 15,000 people.
In order to perform and manage at a high level, listening is key.
"One of the biggest barriers that the workforce experiences with a young boss is that they are gung ho to implement their ideas," says Linda M. Farley of Farley Training.
Asking your team what they need to succeed, and delivering, is critical in succeeding as a manger.