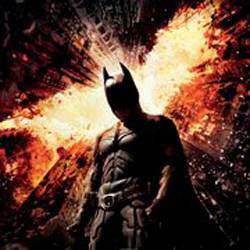 Bruce Wayne has been out of practice for eight years. But, in The Dark Knight Rises, he makes the comeback of the year to save the city of Gotham one last time, concluding Christopher Nolan's trilogy. 
One of the best things about Nolan's films is how real they feel, compared to the campy Batman portrayals of the past. We can empathize with Wayne's human emotions as he struggles to rediscover the strength – mind and body -- he needs to get back in the game and succeed.
If you want to make a superhero comeback in your career, consider some of the most pivotal scenes that lead to Batman's final rise (and if you haven't seen it, first go see it…it's fantastic!):
1. "It takes a little time to get back into the swing of things."
These are the words of sweet, old Alfred the butler to "Master Wayne" right after the stealthy Salina Kyle takes off with Wayne's car. This scene is one of the lightest in the movie, as Kyle leaves the smart, sophisticated Wayne completely dumbfounded.
But good, old Alfred has a fair point: If your job has stayed stagnant for far too long, you won't be able to turn it around in one night. Later, we see that even Batman learns to take one step at a time to fully rebuild himself.
2. "Maybe it's time to get some fresh air and pay attention to the details."
Officer John Blake says this to Wayne, hoping to bring him out of reclusion by tipping off Wayne on the turmoil in the tunnels and the poor financial health of the Wayne Foundation. Blake convinces Wayne that a greater threat is looming.
For us non-superheroes, staying up-to-date on the details of latest industry news is the first step in breaking your career rut. If you don't know where to start,
social media
is one of the best ways to plug into the larger conversation and discover solutions to new problems on the job.
3. "I need you to get me back in the game."
When Batman is ready to save Gotham, he taps Lucius Fox, his friend and creator of Batman's cool toys to help him get back in the game. You might not have a brilliant partner who will design awesome gadgets to help you get ahead, but tapping into your friends and professional network to brainstorm ideas for potential job growth and new opportunities is always a good idea. Oh, and you always have CareerBliss!
4. "Structures can become shackles"
In quitting the police force – dramatically tossing his badge into the ocean – Blake later explains that even the structures of institutions can become shackles. Some might consider structure as stability, others find structure shackling. This scene reminds us that structure (for instance, a 9-5 job) isn't for everyone. It's all about adapting and evolving to the work style that best suits you.
5. "Make the jump like the child did, without the rope"
These sage words of the prison doctor are what helped Wayne figure out that fear is actually a good thing. It's what drives us to operate on levels we never imagined. It triggers us to tap into unused resources of our mind and body — fight or flight.
The rope is a symbol for safety,  and cutting it to jump into unfamiliar circumstances is what pushes us to grow. For instance, if you're afraid of public speaking, volunteer for your next team presentation. Doing something out of your comfort zone can help you find career opportunities you might never thought were possible.