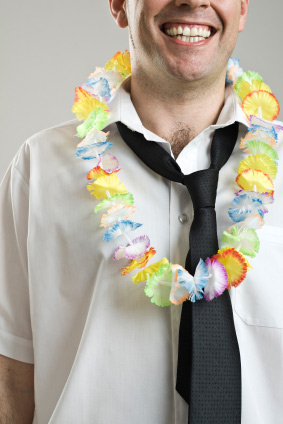 Abraham Lincoln famously said that most people are about as happy as they make up their minds to be. True, but I think he would concede that as human beings, our degree of happiness exponentially increases with continuous positive feedback, especially in the workplace. Our reliance on recognition and reward for our labor is what keeps us happy and productive as employees.
While the good old days of excess—when employers spared little to keep staffers contented by offering such things as lavish hospitality suites at conventions as well as bestowing hefty year-end bonuses—are a dim memory to some, that doesn't mean incentives have completely disappeared from the workplace. On the contrary, many employers are keen on keeping personnel happy for two main reasons: to increase productivity and to prevent them from jumping ship. And, they're doing so in creative ways.
Coffee, soda, beer?
John Pimentel knows firsthand about the perks and incentives offered these days. A systems support analyst from Hudson, Mass., Pimentel has been unemployed since January and is aggressively interviewing in the Boston area. He has turned down job offers as well as been turned down for jobs, but he is always pleasantly surprised at hearing about the unique methods companies are using these days to boost morale.
"The way that a company can increase the morale of its employees really depends on the culture of the company, the level of resources as well as the support of the top-level management," said Pimentel. "Some places will provide all the liquid refreshments as a perk and they'll usually have soda and coffee on hand. One company that I interviewed at recently, which was a startup at MIT, offered beer to its employees at the end of their shifts. The VP there, wanted to always have beer on hand. So, after you've completed a project and you need to just unwind and you're not traveling home yet, you get to drink a beer." Pimentel quickly added that the brew was "not a strong one" and on the "light side."
Unusual, perhaps, but this is just one innovative way to keep employees happy. Another company Pimentel interviewed with had a "Director of Relaxation," whose catchy secondary job was to assure all employees were aware of "internal relaxation activities." (The woman's official title was Tech Support Manager.) "That's one way of taking care of company wide morale," Pimentel said.
By-gone days of softball games, or salesmen prefer money!
Alan Krieger, president of Saturn Business Systems, an IBM reseller based in New York City, remembers the days he used have organized company softball games and annual Christmas parties for his employees as a way to "build camaraderie."
"Lately, we really haven't done much of those things," Krieger said. "Our salesmen have a great commission plan in place and as we all know, salesmen particularly prefer money to other types of incentives."
The softball games died out, he said, though he's "not sure how much that (kind of thing) helps. I'm sure those things are good, but we just don't do that anymore."
Still, Krieger offers company-wide recognition and "praise" to those bringing in large accounts and business. "I'll congratulate them and send out an email to all of the staff about it, if there's a nice win." One of his salesmen recently closed a $2 million deal.
A little praise goes a long way
"An occasional 'thank you' from bosses for your performance, especially when you put in 110 percent on the job, makes all the difference in the world," said Yahia Mawry, a network engineer from Dearborn, Michigan, who is working a long-term contract at Ford, but seeking a full-time  permanent position. "Besides the pay and benefits, the work environment, having a non-stressful environment would be a good motivation for me, plus bonuses based on performance." Too often in the past, Mawry said, his work was acknowledged only after completing "huge projects."
Carl Scialdone, a software QA engineer from East Kingston, New Hampshire concurs with Mawry, saying that even "an occasional 'thank you' would be nice."
"I'd love to hear, 'Hey you guys did such a good job, let's go grab a beer,' or, 'Hey, we met our quotas, so we'll give you the afternoon off; have a long Friday on me,'" Scialdone said. "It doesn't really cost that much and productivity isn't that high on a Friday afternoon anyway."
Sentimental, Scialdone yearns for both benefits from yesteryear when "you used to have a whole plethora of things," as well as get-togethers "like in the old days, when they were spontaneous."
Bonuses based on meeting goals
Bonuses have been and probably will remain the top motivating factor for many employees. In an era where we've seen companies not only reduce base salaries for such positions as sales staff but also eliminate bonuses altogether, having a bonus plan in place typically elevates company morale as a whole. Job seeker Pimentel liked one in particular.
"(An insurance company) I interviewed for had an innovative process for rewarding employees with a unique bonus system," said Pimentel. "If an employee would be brought in at say $50K, and if that employee accomplished given goals for the year, they'd reevaluate his salary, and give him a bonus based on a percentage of what his salary is and what it should be, determined by your manager and the director."
Sometimes, Pimentel said, a bonus could be as high as $20K. Not everyone, of course, would get a bonus, but the company's intent was to help deserving employees achieve their desired salary within two to three years. "Their intent was to improve overall morale. They'd rather pay you a bonus than have you walk out the door to find a new job."
Companies that are getting it right
The good news is there are many companies that are getting it right. According to thousands of employees who submitted their company reviews to CareerBliss, their companies are investing into employee programs, and as a result increasing happiness in the workplace. CareerBliss recently examined more than 250,000 company reviews and determined the Top 50 Companies worthy of a CareerBliss 2011 Bliss Leap Award – a prestigious award that recognizes employers for making the greatest strides in employee happiness year over year.