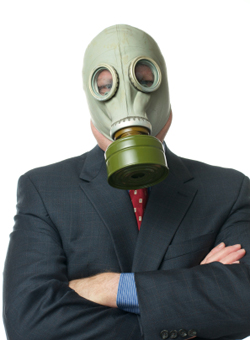 Ugh, Mark is at it again! He's constantly on his phone while eating smelly durian fruit at his desk (it reeks like a dead squirrel buried in manure and then dug up again)! And can't he schedule his colonic hydrotherapy treatment appointment in private?
There's always a Mark in the office -- someone who just crawls under your skin, but you have to see every single day. We spend a ridiculous number of waking hours with our coworkers, combine that with pressures on the job and you've got a recipe for some office *ugh* moments.
You can choose to ignore it, but there are classy ways to deal with office pet peeves (without, say, strangling your coworker). We spoke with a couple office etiquette experts to find out how to steer clear of the following most popular face-palm inducing habits:
8. Played Out Ring Tones
Your cubicle neighbor might still be jamming to Carly Rae Jepson's infamous pop song "Call Me Maybe" without realizing that, after hearing it as her ringtone for the zillionth time, you're starting to fantasize about throwing her phone across the room.  Here's how Jodi R. R. Smith, president of Mannersmith Etiquette Consulting, would deal:
Raina, your cell phone ring tone is really nice, but it is so loud that my client could hear it through the phone when it rang just now.  When you are at work, please turn your cell to vibrate only.  Thank you so much."
Done and done!
7. Bombarding Inbox with Useless Email Chains
LOLcats. Planking. Angelina Jolie's leg. If you've seen it all, you likely have a couple inbox stuffers in the office. These are folks who browse sites like Reddit or Digg and simply have to share their amazing finds with the rest of the office. They're likely notorious for "replying all" as well.
Solution: Create a rule in outlook that automatically sends emails from that perpetrator into a separate folder. Viola! But remember to browse this folder periodically in case you miss work-related emails.
6. Unwarranted Bragging
When Suzie scores one accomplishment, all of a sudden she struts around the office like she's better than you — this can get super annoying super-fast. Smith reminds us that "those who feel the need to brag do so because they feel insecure."
She suggests you take the high road and kindly reassure them with a positive mantra each time.
Suzie, strong work!  You should be very proud of yourself.
On the face, you are being supportive, she says, but by using the same phrase over and over again, you will create awareness for this annoying co-worker of how much he's bragging. 
5. Failure to Shower
General hygiene issues (onion breath, BO, eye crust, greasy hair, smelly food, excessive perfume, etc.) can make it a really awkward, unpleasant work environment—but so can telling your colleague that they stink.
Smith says that it's true kindness if you have a heart-to-heart directly with the smelly employee rather than, say, HR or their boss. It's way more embarrassing to find out others have been talking about your smelliness than being told about it privately.
If you want to soften the blow, Smith suggests a good phrase to use before you start:
I know this is embarrassing, Joan, but if the roles were reversed, I'd want you to tell me.
Then, let the glass shatter.
4. Dodging Duties
You're a hard worker and take pride in doing your job well. That's why it can be irking to be around lazy coworkers who neglect to carry their share of weight — constantly passing off their work or faking too many sick days.
Think about it this way: if your coworker is performing poor or mediocre work, his days are likely numbered. As annoying as he is, try and focus on your own accomplishments. But if his lackluster performance is harming you, talk to the coworker in a positive way with an example or two of his low performance. Then, offer suggestions for improvement.
Mike, I understand if something else is on your mind — but I just lost a client because you didn't turn in the documents on time last Friday. If you need help with better time management, I have a technique that might help …
3. Blatant Kissing up to the Boss
The kiss up is often the close cousin of the bragger. Smith suggests you handle it the same way: "If you are present for the kissing up conversation or behavior, have a mantra ready."
Bobbie, what would we do without you on our team?"
We know what you're thinking: why would you kiss up to the kiss up? Well, just like the bragger, if he constantly hears this phrase over and over, he might realize just how much attention he's demanding.
2.  Instigating Office Gossip
Smith has a great point about those who love perpetuating office gossip:  If the coworker has time to gossip and talk, it means he's got time to kill.
"So strategically, every time they try to chat me up, I give them work to do," Smith says. "Very quickly they will begin avoiding me and I can get my work done."
Chris, I will never know how you hear all these things!  Listen, if you have a minute, can you bring these packages over to the mailroom for me?
Works like a charm, Smith says.
1. Prolonging Meetings with Tangents
It's Friday afternoon, and you're wrapping up a meeting. Sure, we all could be hopping in our cars to drive off into the sunset and hit the beach – but who wants to do that? Why don't we talk ourselves into circles only to conclude that we need another meeting?
Actually, we took a poll with over 400 of our CareerBliss community asking "What is the most annoying thing about your most annoying coworkers?" and it turns out that the majority (by far) of you are most annoyed by the guy who goes off on tangents during meetings.
If you'd prefer to put a lid on him, etiquette expert Elise McVeigh suggests you tell your coworker that what he is saying is important, and you would like to schedule a time after the meeting to hear about it.
"You can also announce at the beginning of the meeting that you are limited on time, and need to get the meeting wrapped by a certain amount of time," McVeigh says.
If you want to be annoyed by your coworkers, first you need a job. CareerBliss has millions of jobs.