By Jeff Havens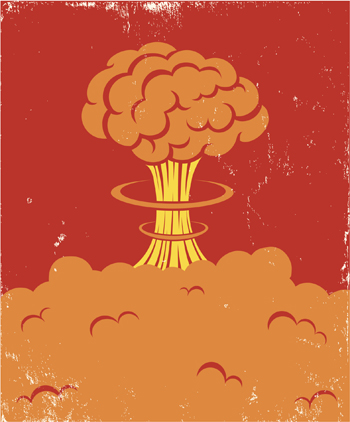 If you thought "what's your greatest weakness" was as bad as it gets in job interviews, allow me to introduce you to the behavioral model of interviewing.
More and more, employers are moving away from the the traditional Q and A, instead opting to present interviewees with hypothetical situations and asking how they would act. Yes, they actually want you to demonstrate some rudimentary critical thinking skills … I know!
Personally, I think companies should forego the interview entirely, beg you to work for them and be happy if you condescend to do so. But, strangely enough, employers don't seem to think the way I do.
Anyway, this new approach to interviewing has created the need for new approaches to failing an interview. Hope these help!
Try to Guess the 'Right' Answer
The whole point of the behavioral interview is to get you to think creatively, to stare at a problem and then come up with a potential solution.  The nice thing about these interviews is that there are often several right answers, including ones that the interviewers themselves probably haven't thought of.
So if you want to totally bomb this thing, you're going to have to pretend that you're still in high school and your teacher asked you the answer to a math question and you know that she knows the answer and that her answer is the only right one in the world.  Doing so will allow you to overanalyze every movement of your interviewer -- He just took a drink of water, does that mean I'm saying the wrong thing? -- and it will also probably paralyze you into inactivity as your brain slowly melts trying to read another person's mind.
Don't Ask Any Clarifying Questions!
You ever see the national spelling bee finals?  Probably not, because they're really boring and it's annoying to see 11-year-old who are smarter than you, so I'll fill you in – those little kids ask every possible question they can think of.  What's the word origin? Can you use it in a sentence? What part of speech is it? What other words is it related to? What does the word like to do for fun?
Your behavioral interview is way more involved than how you spell a stupid word that nobody but precocious 11-year-olds knows.  Intelligent interviewees will ask for additional details in the exact same way that you would do so if you were trying to solve a real-world problem.
You, on the other hand, should try to start answering immediately, spewing nonsense in the same terrified knee-jerk way that you did when your parents caught you sneaking out of the house in high school.  "I went to the bathroom!  In the backyard, I mean, I couldn't find the bathroom inside because I didn't have my glasses on – I mean, I don't have glasses, but I think I need them, we should go to the optometrist tomorrow."
When in Doubt, Surrender Completely!
There might come a point in your behavioral interview where you don't know how to move forward – after all, it's based on a problem that probably took days or weeks to solve, which is way more than 10 minutes they're going to give you.  When this happens, you should flop sweat profusely and simply concede defeat.
A good response would be to stall for time by asking for additional information (see above!) or to honestly admit that you're not quite sure how to respond and that you're excited to be part of a company where you'll be able to learn solutions to such difficult and interesting problems.  (Did you see how I turned that negative don't-know-how-to-answer into a positive eager-to-learn-more?)
But a much better response is to blithely accept the fact that the job you're applying for is way beyond your ability to handle.  Besides, it'll give you a chance to figure out how long you can stare blankly at another individual before they turn away.  If you can't get a job, at least winning a staring competition is a small consolation.Check out Jeff Havens' video
How to Fail a Job Interview
---

Jeff Havens is a corporate speaker and trainer who helps people succeed at leadership, communication, professional development and more by telling them exactly what not to do. He's the author of "How To Get Fired!" and "Unleash Your Inner Tyrant!" Jeff currently lives in the Midwest but hopes not to someday. Not that there's anything wrong with it, of course. There's just other places, you know?  Connect with Jeff on Facebook, Twitter and YouTube.