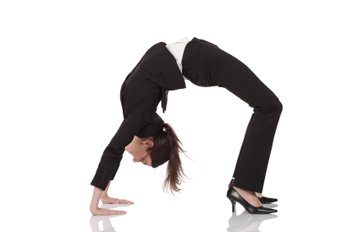 How does having a four-day workweek, shorter workdays or a flexible schedule sound? How about being able to work from home occasionally, or all the time? Sounds pretty good, right? If you enjoy your current job but wish you had a more flexible work arrangement, all you have to do is ask.
When well-prepared, most people are surprised at how receptive bosses can be to the idea of a flexible work arrangement. In fact, according to the Citrix Workshifting Index, 93 percent of companies say they will have some sort of flexible work policy by 2013. If you want flexwork now, the key is to prepare a detailed, well-thought out presentation that showcases the benefits of flexwork for your employer.
Here are five tips to ask for a flexible work arrangement that will make both you and your boss happy.
1. Know What You Want
Do you want to shift your work hours so you start and leave work earlier or later? Do you want to work 40 hours over four days and take Fridays off? Do you want to work from home part or all of the time? Or maybe you want a true flexible schedule that you can change as life unfolds? If you're not very clear about what sort of flexibility you're after, your boss will only be confused and skeptical.
2. Prepare Ahead of Time
If you're serious about getting a flexible work arrangement, you can't just waltz into your boss's office for an impromptu sit-down. Ask for a meeting, plan a formal proposal in writing, and be prepared to answer your boss's inevitable follow-up questions.
3. Anticipate Your Boss Fears.
The potential for diminished trust, communication and productivity strikes fear into the hearts of bosses everywhere. If your schedule is different than theirs, or you're working from home, how can they trust you're not slacking off? How will you keep the lines of communication open? And how can you demonstrate your productivity to them? If your boss doesn't openly voice their fears, speak up for them. It's better to acknowledge these pain points and remedy them up-front, rather than ignoring them and being turned down because of them.
4. Talk About the Benefit to the Company
Whether you want a flexible work arrangement for better work-life balance, a shorter commute, or to stay out of office politics, your boss doesn't care. The only thing that matters from where they're sitting is how this will affect the company. Provide them with real-life proof of how flexibility benefits companies with evidence from four studies over the last year showing that flexible work arrangements increase productivity and decrease operation costs.
5. Suggest a Trial Run
This is especially helpful if you sense hesitation from your boss. Start small, one-two days per week, and agree to assess your performance after a month. Keep track of your productivity so you have concrete proof with which to dazzle your boss. If all goes well, build on your flexible foundation with another day or two of a trial run, and after a few months, you'll have successfully shown your boss that your flexible work arrangement is a very good idea.
If you put these ideas into practice, you stand a very good chance of winning the flexible work arrangement you want. And if at first you don't succeed? Well, you know what to do -- try, try again. After a few rounds without success, it might be time to consider looking for a new job that does offer flexibility -- perhaps from one of the 93 percent of companies planning to offer flexible work policies by next year! But with the right preparation, persistence, and a little bit of luck, you'll find a flexible work arrangement that makes you and your boss happy.