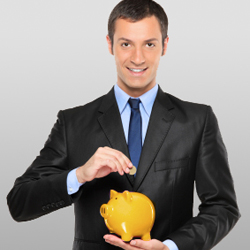 It's always a good idea to be on top of your finances. But when you're out of work, taking control of your spending is crucial. There's an old saying: "Either you run your finances, or they run you." This is especially true if you have little or no income.
Reduce the burden of financial fear so you can focus on your job search:
1. Cut Monthly Bills
You'd be amazed at how many ways there are to reduce your living expenses. Start clipping coupons to save money on your groceries. Adjust your thermostat to reduce your home energy bills. Take shorter showers to save water. Reduce your minutes plan on your cell phone. Cut back your cable TV package, or axe TV altogether. Eliminate your home telephone line (if you have a cell phone and can otherwise get by without it). Some of these tactics are extreme, but they may be necessary until you start getting a paycheck again.
2. Ask 'Do I Need This?'
First of all, stop purchasing anything from a gas station besides gas - anything that is sold in a convenience store is something you either don't need, or something you can get elsewhere for a cheaper price. Next, whenever you go to spend money on anything, ask yourself whether you truly need it. In many cases, the answer will be no.
3. Prioritize Your Bills
If it gets to the point where you just can't keep up with your bills, you need to prioritize them according to the ones you need to pay and the ones that can wait. Your mortgage or rent comes first and, after that, your basic utilities. Although it's unfortunate, your credit card balances should be at the bottom of this list. But at least send in the minimum amount due if at all possible.
4. Save on Job Search Expenses
First of all, understand that many job search expenses (such as resume preparation fees) are tax deductible. This won't result in immediate savings, but you'll reduce your year-end tax burden. Next, seek out free career resources instead of paying for an expensive career coach.
Once you land a new job, you should continue to use money-saving measures. Get on top of your bills and reclaim financial wellbeing!
David Bakke is a contributor for Money Crashers Personal Finance, a blog focused on helping readers with their careers, small businesses, and finances.