Welcome to the CareerBliss Career Changers Q&A series, where we talk to folks in the CareerBliss community who have made the leap into a brand new chapter of their career. This is the 1st of a 3-part article series. 
---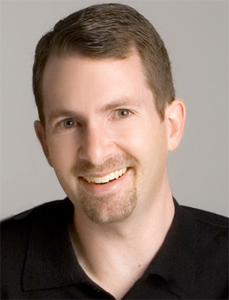 Greg Miliates took the IT field by storm -- with a B.S. in psych and MA in recreation (we checked, they actually have a degree in that)! Greg Miliates was always a geek at heart, but he didn't have much professional experience nor certifications.
Though he was a few steps behind his competition, his incredible drive, soft skills and confidence allowed him to take the path less traveled and catch up with his tech peers. Not only did he land an IT jobs with barely any experience, he managed to become an IT consultant.
We hope Miliates' story inspires you to make your next big career move as thoughtfully and determinately as he has.
Find out how Miliates made the career change:
It could not have been easy to knock on employers' doors in hopes for a tech job with only a degree in psychology! It's pretty much nuts. What was the toughest part of this transition? And how did you prevail?
The toughest part was even getting my foot in the door to get an interview. At the time, my strongest tech experience was updating HTML web pages and doing internal tech support at the nonprofit before relocating across the country.
So, at the time, not only did I have very little tech experience, but I knew no one where I'd relocated. It was really discouraging at times, but I kept plugging along, sending resumes out, and personalizing every cover letter, then following up with phone calls. Doing something on the job search every single day helped buoy my spirits during that time, and my wife was also very supportive.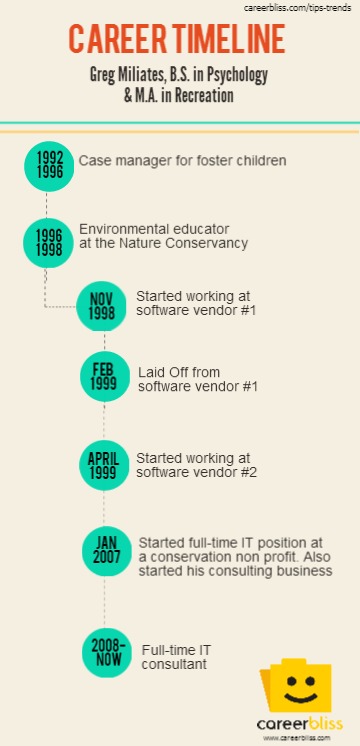 Weren't you intimidated by all your colleagues and competition with an IT background and technical skills?
Absolutely. Fortunately, I seem to have fairly good interpersonal skills compared to some tech people, so that gave me an edge. Some HR people have a saying: Hire for attitude, then train for aptitude. Meaning that you can't train someone's attitude, but you can train tech skills, so it's better to hire someone with a great attitude.
You mentioned that, initially, not even AOL called you back for a call center job. How did you eventually land your first interview?
All told, it took me about two months to snag my first tech job. That job was at a tiny start-up, where the hiring person actually liked my human services background, interviewed, and then hired me.Correct, and I never heard from AOL. Mainly, I sent out resumes in response to want ads and postings on job sites. I'd let a week or so go by, then call to follow up. That may have helped somewhat. I always also sent a hand-written thank you note as a follow-up after any interviews, which was easy, since I wasn't getting many interviews.
You overcame an incredibly steep learning curve --- how did you do it while keeping your sanity?!
Well, I almost quit my second tech job after I'd been there a couple months. I was doing software support for a pretty complex enterprise system for law firms that does all their accounting and case management, and I was completely overwhelmed.
My wife thought I should stick it out a bit longer, and I remember talking to my boss about it too, and she encouraged me to stay. Eventually, it got easier. I found some areas I liked, started excelling in them, and worked my way up the ranks a bit, and even ended up doing internal training at the company.
How did you manage to work full-time at the nonprofit while also starting a consulting business?
Great question. That was an interesting time, since I was working full-time at a nonprofit, and starting my consulting business, while being married with two young kids. I didn't watch much TV, but instead, I'd carve out bits of time to do the consulting.
Eventually, I realized that the time I spent at my day job was getting in the way of how much I could earn consulting, so I talked to my boss, and he agreed to let me work part-time until they found a replacement for my position. A couple months after that, I had quit completely and was fully self-employed. Interestingly, quitting my day job to wasn't very stressful--even though I tend to be cautious by nature--since I'd already had a track record of increasing my revenue and clients.
With no familiarity of the IT field, how did you research the salary you should be getting as a novice tech professional?
For the salary, I initially accepted what they offered, though I negotiated them up a bit. After I'd worked there for a while, I saw what other similar jobs were paying (and also learned what others within the company were earning), and could use that as a gauge. (Hint: CareerBliss has millions of salaries!)
For clients, what I do now is essentially value-based pricing (vs. per hour), which can be a bit harder to figure out, but I've found ends up being a win-win for the client and myself.
Likewise, if I was ever forced at gunpoint to get a "real" job again, I'd take the same approach to salary negotiation, where I'd lay out all the value I provide, and use that to justify my salary, salary increases, etc. Focusing on the value the client or employer gets is a far easier sell than simply saying, "I'm raising my rates this year (for no reason)" or "I'd like a raise (just because I've been here an extra year)."