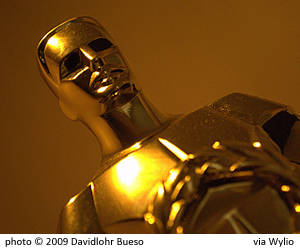 While The Social Network film crew is probably still beaming over the few Oscars they took home, the real winners here are not the directors or actors, but actual Facebook employees. Based on the film's depiction, Facebook offers a company culture that allows employees to truly enjoy their workplace, including opportunities to work on cool new projects, ability to bring their personal ideas to life and many other collateral benefits along the way.
Unfortunately for many of us, our workplace is less like that of Facebook and more like a bad reality television show, or The Office. What's worse is that some of the top reasons why my candidates tell me they're looking for a new job are because they either have an overly controlling boss or they are stuck in an uninspiring workplace.
If you're thinking about leaving your job for the same reasons, consider these award winning career moves before taking on your next big role.
First, see if you can resolve these issues with your current employer. Before moving on, ask yourself:
Can you learn to work with a controlling boss? Talk to him/her and find out. You may find that your boss has been difficult to deal with or too controlling because of looming deadlines, pressure from higher-ups, and they may need additional support from you and the team. This could be a great opportunity for you to demonstrate your abilities to help carry some additional work in support of your team. Everyone, including your boss, likes a team player and will recognize you for it! By having an open dialog with your boss, it could give you greater insight and present you with new opportunities.
Does your company policy reward sharing ideas or does it stifle creativity? Recently, Microsoft made a push to incentivize their employees to work on non-core projects that they're passionate about by rewarding them with more money. This is a fantastic way for a company to leverage their employees' talents to be more creative, productive and passionate about their work. When was the last time you shared creative ideas with your company and where did it end up? Based on your employer's response, you can quickly gauge whether or not there are opportunities for you to contribute creatively at your company.
If you've determined it's really time to make a fresh start elsewhere, then:
Learn what drives your work happiness. Do you know what makes you happy in your career? If you're not sure, assess your work happiness to discover what motivates you in the workplace. Is it growth opportunities, better pay, work-life balance or job security? Once you have this insight, you'll know what to look for in your next job.
Research companies. When you decide to take the plunge, you'll instinctively want to hit as many job boards as possible, and who can blame you when there are so many out there. But you probably don't want to jump from the frying pan into the fire so I recommend using CareerBliss to get the inside scoop on prospective employers. Get real company reviews from real people who can tell you what it's like to work at their company before you apply.
Having this type of information at your fingertips will not only increase your chances of working in a fun and cool environment like Facebook, it'll help boost your chances of becoming a part of an Oscar worthy team.