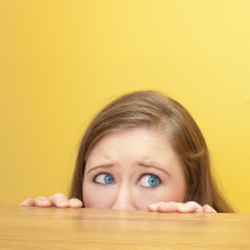 It's not always easy to keep cool when a prospective employer brings up a difficult topic, but some forethought and practice can help you keep the interview on track. Consider these expert tips for answering four questions feared by job seekers:
1.  What are your weaknesses?
Tread carefully here. Nobody wants to appear cocky by claiming perfection, yet showcasing inadequacies isn't the best way to sell an employer either.
"Provide a weakness that you had, what you have done to overcome it, and where things stand now," recommends Lavie Margolin of Lion Cub Job Search and author of The Roaring Job Search Anthology. "Focus on something that isn't an essential part of the job but an area where it would be helpful to show that you've improved. For instance, 'I am very comfortable using Microsoft Word, Excel, and PowerPoint, but when it came to Access, I was a bit lost. I spent some time watching tutorial videos on how to improve. I still have a ways to go, but I feel much more comfortable using the software now.' "
David Couper, a career coach and author of Outsiders on the Inside: How to Create a Winning Career . . . Even When You Don't Fit In, suggests a similar strategy. "Turn (the question) around and say, 'I have been doing this job for a while and don't really have weaknesses or I would have been fired. A challenge I faced was X, and I did Y to fix that issue.'"
2.  Why shouldn't I hire you?
"This is a tricky question because the job seeker can come off as arrogant if the response is, 'There's no reason you shouldn't hire me,'" says Linda Matias, author of 201 Knockout Answers to Tough Interview Questions and owner of CareerStrides. "Here's a nice way to phrase the response:  'Based on the responsibilities outlined in the position and the conversation we had today, I am a perfect fit.' Then, provide specific reasons."
Among the statements Margolin likes if asked why you shouldn't be hired:
"If you want someone that will keep things status quo and don't want to improve the way business is done."
"If you want someone that will just 'yes' you and not provide an opinion for how things could be done better, when warranted."
"If you want to save a few dollars by hiring someone less qualified or capable for the work."
3.  What did you enjoy least about your last job?
Bad-mouthing an ex-boss or complaining about overtime might be tempting, but it also could plant seeds of doubt in the interviewer's mind about your attitude, ability to get along with others and work ethic.
"A job seeker should always remain positive, even when an interviewer fishes for the negative," Matias says. She suggests saying something like, "I enjoy every aspect of my job since each responsibility helps me reach departmental goals."
Couper agrees that generally you want to avoid opening up and telling all on this question. "If you are changing jobs to something different, you might be honest (and say something like) 'I didn't like the travel' when you are taking a job with no travel. Ideally, you find something that gets 'fixed' by the new job."
He cautions, though, that whatever you say still has the potential to lead to more questions and more negativity. "For example, 'I didn't like the commute. I would love working here because it's only 15 minutes from my house' can turn into a red flag if the company is planning to move in a couple of years. Without being Pollyannaish, it is sometimes more effective to either make a joke ('They didn't have a Jacuzzi.') or bring up a problem that you solved ('We had a new computer system which was challenging, but once I had spent a couple of weekends on my own time, I was totally up to speed and became the office whiz kid.'). The best advice is to quickly go on to what you liked and excelled at in your old job."
4.  So, you're already employed – why are you looking for a new job?
Once again, focus on the merits of the prospective company rather than the faults of other employers. As Matias notes, "If the job seeker doesn't get along with his manager, he doesn't have to say that outright. Diplomacy works wonders: 'After I read about your company in XYZ magazine, I realized there is a mutual fit between my working style and your company's culture (name the specific fit), so I decided to apply.'" Couper's choice:  "I love my job, but I love your company because of X, which my current company doesn't provide."
Remember, this question – and the other "tough" ones – can be your chance to shine with confidence and spirit!
Ready to answer some tough job interview questions? CareerBliss has millions of jobs.