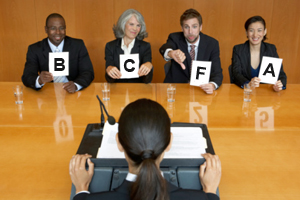 Diane Gannon shocked herself last month when, during the course of her 13th interview in three months, she answered that dreaded "What do you see yourself doing in five years?" question by saying she wanted to work for the company interviewing her.
"I was so tired of hearing that dumb question, so this time I thought, screw it and said, 'Working with you!'" said Gannon, a desktop support analyst from Arlington, Texas. "It was the very first time I ever said this. All the other times I would say, 'Working on servers a little more or learning a new technology.' I mean, I was looking for a job and a place where I can put myself for a long time. "
Although she admits to taking a gamble by saying that, the hiring manager actually liked her honest answer. So much so, that he offered her the job the following week.
Was luck with Gannon on interview No.13? Maybe a little, but not entirely. Undoubtedly, she aced the interview because she had the right skills and experience for the job and was prepared to play her very best game by both presenting herself well and answering tough questions.
What kinds of questions can a candidate expect during an interview? While every hiring manager has his or her own interviewing style, all want to determine if you are who you say you are on paper. Hiring managers may seek important information in various ways, but they typically arrive at the same conclusion in the end.
Be ready to address your deficiencies: Don't hope that it won't come up and be prepared for the unexpected.
"Early in the interview I will turn it over to (the candidate) and have them explain a summary of their career: What they liked, what they didn't like and how they got to where they are," said Erik Olson, managing partner at Norfolk, VA-based Syntactical Business Intelligence. "I want to know what a perfect job would be for them. And that gets them confortable, gets them talking about themselves and gets them conversational.
"Quite frankly, we usually ask them to explain certain things on their resume, things that are not that flattering. For example, we have an intern starting with us soon and he has a 2.9 GPA. Why is that? We'll point out the obvious to the candidate, like why they left a job, and then make them explain the obvious deficiencies. We want to know how they handle real world stress, to see how they'll respond to stress. If they give you a song and dance, that'll give you an indication of how they'll handle the job."
Articulating your attributes and handling difficult scenarios.
"Basically what I look for from the candidate is to articulate how they will be successful in the job, and what attributes they have, such as excellent organizational skills," said Diana Marshall, HR Generalist at the national law firm, Dykema, based in Detroit. "I'd want them to talk to me about how they acquired those skills and how they demonstrated those skills in their past jobs. If it's more of an analytical job they're applying to, I'll ask what technique they'd used to analyze things in the past and how they made sure that the information was accurate."
Marshall uses script questions during interviews, and typically includes a scenario to decipher, which she uses to both assess a candidate's behavior as well as his or her problem-solving skills.
"Maybe the person is going to have to work with someone with a difficult personality, who is also very aggressive and they've gotten an assignment from this person. I want to know how they'll react to this assignment and this person. There is not really a right or wrong answer, but I am looking for the behavior they'll exhibit in handling the assignment, not necessarily the answer."
Humility goes a long way. Arrogance and bluffing will get you nowhere.
"For me, it's mostly factual information that I'm looking for, I want to know about their work history," said George Pappas, Regional Sales Manager at Saturn Business Systems in New York City. "Because I hire only sales positions, I'm looking for previous success in sales, the accounts they have and to find out how they identified those accounts."
Pappas likes someone who is able to give him "the specifics," and has a little "modesty" as well, rather than being boastful about past accomplishments. "I like honesty. I'd rather offer the position to the person who is humble rather than to someone who says he knows President Obama. That's not going to impress me.
"If they start touting themselves that they're the best thing since sliced bread, that they know this person and that person, it's not the right fit. A candidate once told us they make 300 and change and we did question that and asked her to produce a W2. Obviously the bluff was called out and she wasn't hired."
Olson concurs, saying humility is always refreshing. "When candidates are ultra-aggressive and overstate what they can do for you, like if a guy's a janitor and wants to be a CEO, they're talking way beyond a position. We're looking to fill a specific job right now and not some job in the future job."
Know your player!
Research the company online before you go on an interview and be familiar with company's services and/or products. Additionally, get the inside scoop on the company from real employees by asking questions.
Be prepared to present.
You need to be ready to address anything that's found on your resume: Previous positions including short stints, layoffs and firings (if applicable). Also, gaps in employment and GPAs.
"I really wanted this position, and I was showing with my personality that I really wanted it," said candidate Gannon. "(The hiring manager's) questions were about what I was doing at my last position. He also gave me a scenario and asked me how I would solve it."
"Overall presentation skills are very important," said Dykema's Marshall. "I want to know how they can tell me they are the best person for the job."
Be prepared to go all in.
In the end, luck really has no part in getting you a job interview, and it most likely won't land you the job either. Like Gannon, know how to play the right cards with the right strategy, and you will improve your chances of winning the job.