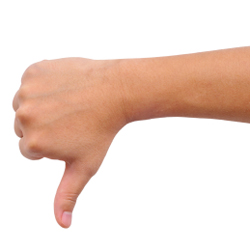 Your boss announces her resignation.
Two weeks later – after all the It's been a pleasure working for you. Be sure to keep in touch. Good luck, so long and see you around – your department has been left with a management void.
If you want to transform your boss' departure into a promotion for yourself, consider the following:
Don't Count on Seniority: Being the most senior resident of your department entitles you to a pat on the back and scattered applause at the next employee recognition luncheon, but not a promotion. Unless your organization has some monarchial succession scheme – or if there are weird office politics going on -- the decision of who to replace your recently departed boss will likely be based on performance and related factors (though, we concede, seniority could be a tie breaker).
Don't Uncharacteristically Hustle: Last week you were just kind of plodding along – doing what you needed to do, but not much more. This week, you hear your boss is leaving and now you're running around taking on extra tasks, speaking up at meetings and looking for every opportunity to assist your coworkers (whether they want it or not).
Your enthusiasm is commendable, but where was it last week, and the week before? The job is more likely to go to the candidate who has performed consistently at a higher level and has shown an inclination to go above and beyond when needed – even when there's no carrot dangling from the stick.
Don't Play Dirty: Bob's alleged long lunches and personal calls never bothered you too much before. But now that you're both in the running for the same promotion, these things must be brought to the attention of management. Immediately!
After all, it says something about his ability to lead the department, the argument may be. But really, your sudden inclination to disparage Bob is just an obvious attempt to sabotage a rival in hopes of disqualifying him for the promotion.
Hacking away at a coworker will – or should, at least – reflect poorly on you. And if the sabotage is successful, do you really want to work at a place like that? Sooner or later, someone will start hacking away at you (you were, after all, on some of those long lunches with Bob). Concentrate on why you deserve the promotion, not on why Bob doesn't.
And … the How:
As alluded to the previous three points, the best way to set yourself up to fill the management void left by your boss' departure is to really be the best person for the job: Consistently work like you want, deserve and can handle the job – even before it ever becomes available.
It's that simple (and that difficult).