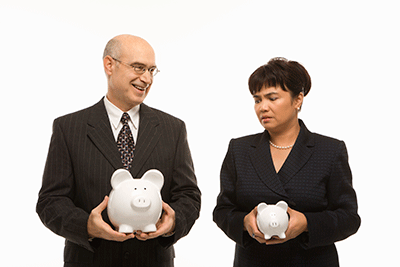 What if discussing your salary with your coworkers was as normal as chatting about the latest NFL draft pick? Talking about and comparing salaries, however, has been a longstanding workplace taboo.
What if your colleague makes way more than you, or you find out you're being paid less than you think you should? It can get really awkward, really fast.
But there's another side to this so-called taboo you should consider: Some folks believe talking about your salary can be really constructive for your career.
For instance, a recent feature in 99u.com talks about how start-up BufferApp is breaking this workplace taboo by creating a culture of complete transparency. Ten people work at BufferApp and each knows how much the rest makes. Better yet, they know why they make the salary they do.
Here are some reasons why a similar culture of transparency can actually help you:
You'll Be More Confident You're Getting Your Worth
Employers have everything to gain from your keeping your salary hush-hush.
First of all, they get the upper-hand when you negotiate your salary. Second of all, they don't have to worry about accountability if they pay you unfairly.
"You should always try to get to a company that has out-in-the-open salaries, because that means you have more out-in-the-open managers — managers that have so much self-confidence in their ability to value accurately a business contribution that they can set airtight salaries and stand by them," career expert Penelope Trunk says in a blog post.
With More Accountability, Everyone Will Work Harder
If salary became public, everyone's going to be accountable to prove their worth. The folks on the lower salary end will work hard to climb up and folks in the higher salary bracket will want to prove they're worthy of the high stack.
Tammy Erickson, author of What's Next Gen X?, wrote a piece for the Harvard Business Review about her time at a transparent company. "I remember it was actually a pretty healthy obsession with increasing the quality and quantity of our work so we could justify a higher billing rate and hence, of course, a higher salary," Erickson says.
Plus, if employees can be rest assured that there isn't any funny business going on about their salary, they can focus on what really matters: their performance.
"This stops people wondering and speculating about what others earn," says Joby Blume, managing consultant at BrightCarbon.
It Would Discourage "Closed-Door" Activities
Erickson argues that eradicating pay privacy would discourage the office politics and "closed-door" that's prevalent in corporate America.
"Those who are paid above the value of their contribution are often leveraging political skills or other factors not directly related to the value of the work they do. Being part of a work environment in which this closed-door activity is the norm is not engaging and can lead to a feeling of "why bother" when it comes to working harder," she says in the Harvard Business Review article.
At BufferApp, someone who tries to negotiate far above the offer is probably someone who wouldn't be a good culture fit in their start-up anyway. You just gotta take it or leave it.
Regardless of your company culture, being informed about your market rate is absolutely vital to your career. If you'd like to know what your coworkers might be making without actually asking them, consider checking out some of CareerBliss'  database of more than 4 million employee-submitted salaries.