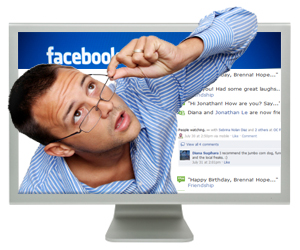 With social media becoming more a part of everyday life, applicants on the hunt for new jobs should look at sites like LinkedIn, Facebook, Twitter and even the newly launched Google+ as potential deal breakers when it comes to getting an offer.
A recent SHRM study (Society for Human Resource Management) revealed more than half of companies said they using social networking sites to recruit for their open jobs, a notable jump since 2008 when only 34 percent of companies polled were using such sites. Although nearly all of the organizations (95 percent) used LinkedIn (a social networking site for professionals) for staffing, there was a surprisingly high percentage – more than half (58 percent) – that also used Facebook, with Twitter coming in at a close third.
Use Your Social Media Profile to Your Advantage
Binh Tran, CTO and co-founder of the San Francisco-based Klout – a company that provides social media analytics and measurement of influence on users – says when it comes to comparing two applicants on paper and making a decision, the job usually goes to the person who serves up creative, engaging content that has strong connections in the professional community.
For technology positions, Tran emphasized that an applicant will get a "big push" if they talk about what they do for work outside of work. Social media communication on other topics, such as charity work and extracurricular interests, also factors into the decision, since it gives insight into a person's personality and is an indicator of whether they fit the culture. Also, a mix of outside interests in an applicant's social media communication shows them to be well-rounded, Tran said.
Optimize and Build Your Personal Brand Presence with Social Media
Giving yourself online "street cred" will also up your brand presence as an expert in your field. This can be done by blogging about professional topics or being active in recognized online forums. Klout's Tran also advises engineers to make sure they find themselves on Quora, a question-and-answer site where users can up someone's answer, thereby giving them more authority on the subject.
Watch Your Digital Back
An easy way to make sure your personal and social activities or viewpoints are kept, for lack of a better word, personal, make sure you are using a social media site's privacy settings to the full extent. This means keeping your profile, along with pictures, status updates and personal information private, so they are not available as search results on the site. Make sure you differentiate vanity usernames (most people tend to use the same handle for all sites) for various social networks that are geared for either private/recreational use versus professional online networking.
Renee Arends, Human Resources Manager from Calabasas-based Informa Research Services, said, "Using social media sites is part of our hiring process." When asked what potential candidates should be wary of so hiring managers are less likely to discover unsavory information Arends provided some sound advice: "Delete tagged pictures of [yourself] at parties or out drinking alcohol, or not wearing appropriate attire. Omit any obscenities/inappropriate language. Google your name to see what is posted."
Knowledge is Power
Hiring managers shouldn't be the only ones to get the goods on you. You can also get the goods on potential employers by researching companies on CareerBliss.