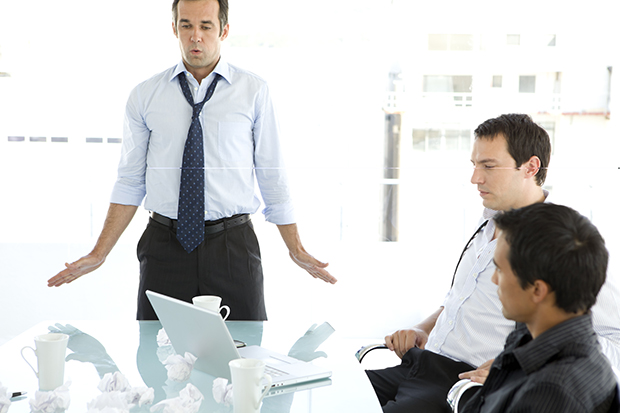 Dealing with a workplace bully is an added stressor that can make your job unbearable, if you're unprepared to diffuse a tense situation.
According to the Workplace Bullying Institute, victims of workplace bullying can suffer serious mental health issues if the bullying is left unchecked. The longer and more focused the bullying is towards a victim, the greater the lasting effects.
Eighty percent of victims suffer paralyzing anxiety, 52 percent have panic attacks, 49 percent experience new or worsened diagnosed depression and 30 percent suffer post-traumatic stress disorder.
This impact on work place happiness is directly related to your professional success.
"Happiness and well-being are immensely important, desirable outcomes for employees, leaders, etc.," explains S. Chris Edmonds, founder & CEO of The Purposeful Culture Group, "One key theme is that YOU are responsible for your own well-being. If you delegate authority and responsibility for your happiness and well-being to others, you're going to be disappointed a bunch of the time."
So, how do you achieve workplace happiness despite a workplace bully? By understanding and applying three simple strategies to deal with your workplace bully, you can help minimize this problem: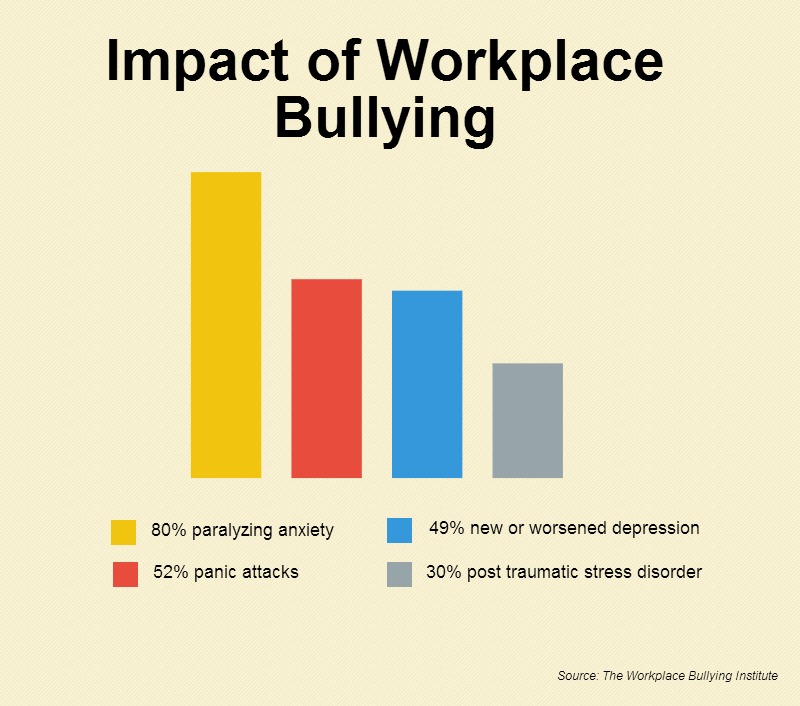 1. Respond Kindly to Harassment
You may think ignoring them may work, but it doesn't always. "'What really needs to happen is that you need to stop rewarding the bully and they will eventually go away after cycling through something called an extinction burst," explains
Jennifer Hancock
, author of
The Bully Vaccine:  How to Innoculate Yourself Against Obnoxious People.
Handling a bullying entails patience, confidence and a strong will. She recommends using a non-sequitor or a statement that is unrelated to the bully's actions. For example she recommends reciting one of the company's values.
It can also be a non-threatening statement about the weather or bland topic.
The point here is to acknowledge their presence, but not reward their actions through what Hancock calls a "neutral response." She explains that in time the bully will not get his or her reaction and "give up and go bother someone else." 
2. Make Friends, Not Enemies
"When being bullied, you have to be proactive about recruiting allies," Hancock says. If your workplace bully is giving you a hard time by holding back project details or information, especially when it's verbal, you need to document it with a supervisor.
Hancock explains that following up via e-mail on the oral agreement with a supervisor (and your bully on their agreement) will show who is responsible for what. If and when the workplace bully fails to uphold their end of their work responsibilities, the neutral third-party supervisor will automatically know who performed and who did not.
3. Document, Document, Document
Hancock recommends documenting every occurrence, as detailed as possible. Examples of documentation include e-mails, witnesses, photographs, daily notes, etc.
Doing this helps in you three respects:
Identify a bullying pattern
Helps you prepare a "plan of attack" to deal with the bully
If it comes to it, a lawsuit
You can see if it's direct (verbal taunting) or indirect (falsely accused of not performing job responsibilities), and if you need to develop a non-threatening statement or involve an ally. This will also help you de-stress as it takes what happened (good or bad) at work off your mind and on to paper (or computer) to help you forget about it...at least temporarily!
---
This article was contributed by Thomas Hill, freelance writer and president and owner of Clairvoyant Internet Marketing LLC.