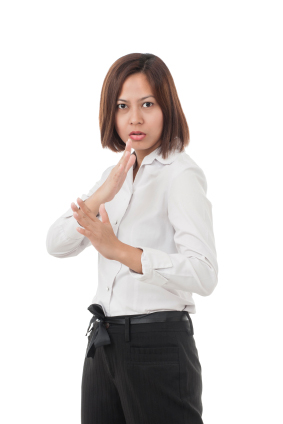 "You know that situation where you get an evaluation from your boss, and she tells you 37 things you do really awesome, and one thing – an 'opportunity for growth?' And all you can think about is that opportunity for growth, right?" says Brene Brown, professor at University of Houston, says in her TED Talk on The Power of Vulnerability.
It's that kind of obsession with criticism that stands between us and success. Dwelling on negativity – especially when the criticism is meant to be constructive – stunts professional growth and hurts happiness.
If you cannot face failure, you will not innovate, says Joseph Grenny, co-author of the New York Times best-sellers Influencer and Change Anything. And, he says, if you cannot embrace criticism, you will shut down feedback that's essential for furthering your career.
A study by Leadership IQ found  that "26 percent of new hires fail within 18 months because they can't accept feedback."
Letting the office bully get under your skin, feeling paralyzed by a poor review or obsessing over constructive criticism can stop you in your tracks … if you let it. We spoke with some career and psychology experts to learn about effective ways to take the sting out of hurtful words:
1. Don't be Afraid to Turn the Tables on Unconstructive Criticism
Some people -- aka bullies -- love to shoot you down. They are quick to judge to make themselves look good, and last to offer any valuable suggestions.
When these bullies attack your idea, always follow-up with the question: "hmm, that's a good point. What do you think we should do?" Boom, tables turned! It's a happy medium between getting defensive and getting in-your-face confrontational.
2. Learn This Mantra: "I will not take this personally, this is not about me"
If you make a mistake or someone laughs at your blunder, "put on an imaginary lab coat and pretend you are a scientist gathering information – no emotion, just the facts," says Judy Winkler, coach and counselor of 35 years.
More often than not, your colleague is criticizing this isolated transaction, product or process -- not you.
"No matter how it feels in the moment people are usually remarking on what they see as workplace realities and not your worth as an individual," Karen Southall Watts, manager and entrepreneur trainer.
For instance, if the boss says, "You were late with the report." Translate that to "The report was late."
"Corrective action: make sure the report is in on time next time. Period!" Winkler says. "There shall be no self-deprecating talk that you were bad, inefficient, lazy, etc."
3. Take a Second and Write down Your Auto Thoughts
Wise words from Dr. Philip Dembo, life coach and relationship expert: "Never react, always respond." When you find yourself feeling incredibly heated or you're so upset you want to cry, take it as a cue not to react. Instead, take a minute to release the adrenaline.
Take a breath.
Step outside.
Or better yet, "Write down all of your 'automatic thoughts', even, and especially if you know they aren't rational," says Jonathan Miller, outpatient therapist in Columbus.
Thoughtfully responding to someone instead of reacting abruptly will not only encourage emotional well-being but also project a perception of strength, tact and confidence. So, play it cool.