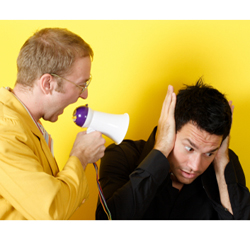 Having a micromanaging boss can make an employee feel like he is back in fourth-grade math class with a teacher looking over his shoulder expecting mistakes on a long-division problem.
Whether such scrutiny is based on fear, a desire to be helpful or a natural inclination to control things, the result is usually the same: a frustrated worker annoyed by the perceived lack of confidence.
The good news is that there are ways to loosen the grip. Consider these six strategies for breaking free:
1.  Evaluate Your Role, Then Talk
Is it possible something in your past is driving your boss's behavior? "Think about how you might have contributed to making this person a micromanager, such as by missing deadlines or producing sloppy, error-filled work," says Craig Runde, director of the Center for Conflict Dynamics at Eckerd College in St. Petersburg, Fla., and co-author of Developing Conflict Competence.
Once you have examined the situation, you can begin a conversation that works on solutions. "Communication is key. Openly discuss the micromanager's view of your work, particularly if [he or she] micromanages you and not others," Runde says. "Explain that you sincerely want to improve and be viewed as trustworthy. Ask 'What concerns do you have about my work?' Listen attentively, not defensively, and take notes. Establish specifically what you need to do and when in order for the micromanager to trust you."
2.  Work Together to Establish Boundaries
Ease a worrier's mind by negotiating select opportunities for him to view how things are going.
"When you get a new assignment, agree on checkpoints," suggests Catherine Jewell of CareerPassionCoach.com and author of New Resume New Career and 31 Days to a Better Boss.
"Ask a lot of questions and make it clear that you understand the real goals and each of the steps. Then, make a promise to report back, at the stages you determine are important. If the boss wants to check your work before your agreed-upon deadline, just say, 'Everything is proceeding as we planned.' "
3.  Ask for Help Sooner than Later
If you develop a reputation as someone who is honest about what is going on, a superior may not feel the need to monitor so closely.
"When things start to go wrong, ask for help sooner rather than later," Jewell says. "When you're in over your head, admit it. The boss will see that you take your responsibilities seriously."
4.  Examine Your Work Relationships
Is it possible the boss is responding to negative comments made by your co-workers? "Figure out who your detractors might be and work on winning them over, one by one," Jewell says. "You can do that with friendly conversation and offers to help out in a pinch."
5.  Produce High-Quality Work
Get on the good side of both fellow workers and superiors by consistently meeting or even exceeding the demands of your position. By doing things correctly and on time, you'll solidify the perception that you're someone who can be counted on, which will help keep others from feeling they need to watch your performance.
6.  Look for Common Ground
Finally, remember that even though a micromanager can be annoying, he probably has the company's best interest at heart. Ensure him that you do, too. Runde's suggestion:  "Remind the micromanager that your goal is to make both of you, as well as the organization, look good."