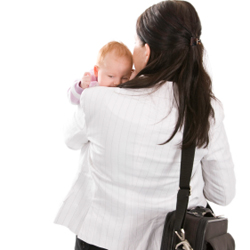 Oh, does the time fly. Just when you're starting to adjust to the joys and challenges of a new baby, maternity leave is over. While going back to work is bound to bring a mixture of emotions and concerns, you can handle both spheres (Just look at new Yahoo CEO Marissa Mayer).
Consider these tips to make the transition smoother:
1.  Create a Plan
By now you're probably an expert on everything from packing a diaper bag to scheduling who gets up at 2 a.m. with a fussy newborn. Take your managerial skills to the next level by planning out the details for getting everyone where they need to be with all their necessary material on a daily basis.
"The more routine there is, the less thinking has to take place," says Mitzi Weinman, founder of TimeFinder -- a professional training company that specializes in improving productivity, effectiveness, and focus.
She suggests listing all the activities that need to take place for you and other members of your household to get out the door, such as showering, dressing, packing a briefcase and diaper bag and making lunches. See which tasks can be accomplished the night before in order to simplify mornings, and make checklists to ensure that you don't leave your bus pass at home or forget to take the bottles out of the dishwasher.
2.  Do a Trial Run
Weinman also recommends practicing the new routine several times prior to returning to work in order to get rid of the kinks. (Best to find out now that the five minutes you allowed for dressing the baby should be upped to 10.) Seeing your plan in action will boost your confidence level and ease your mind.
Likewise, it is helpful for your baby to become used to the new arrangement. If Dad is taking over bathtime duties or a caretaker will be handling lunchtime feeding, let them practice now while you're still readily available to offer pointers.
3.  Get up to Speed at the Office
Regardless of the length of your leave, it may feel like you've been away forever when you step back into the workplace. Staying in touch with colleagues via email or phone during your absence can help you keep in the loop.
"While you can't be in the office, you can offer your thoughts and ideas and advice," says Aricia LaFrance -- a therapist, career coach and author of Unlocking the Secrets of the Successful Career Seeker. As your return date gets closer, you may want to begin dropping in for weekly staff meetings (without your baby in order to maintain professionalism), talking to your manager, and consulting with team members who assumed your responsibilities.
LaFrance also recommends staying current during your maternity leave by taking an hour or so every few days to read the most cutting-edge publications/articles for your field.
"This allows you to show your value and to be right in step when you return to work," she says.
4.  Periodically Evaluate
Odds are low that you'll come up with a perfect work-life scenario on the first try. Communicate regularly with your partner and your baby's caretaker about what is working, what isn't, and why. Make adjustments accordingly. Perhaps trading around after-work duties would allow your husband to hit the gym three times a week and you to get a much needed nap on the other two weekdays, or maybe setting the alarm 10 minutes earlier would help everyone ease into the morning rather than scramble.
Don't forget to look at the big picture, too.
"No matter how much you plan before the birth of your baby, the reality may be entirely different than your vision," LaFrance says.
Priorities, emotions and financial situations may change. Think about various options, whether that means working more or less hours, dropping to part time status, getting a different job, or even leaving the workforce temporarily.
5.  Give Yourself a Break
Lastly, remember that it takes time for a new routine to feel comfortable. Don't waste energy lamenting over every missed second with your baby or fretting that you aren't burning the midnight oil at the office as often as a coworker. Instead, focus on creating the work-life balance that feels right for you.