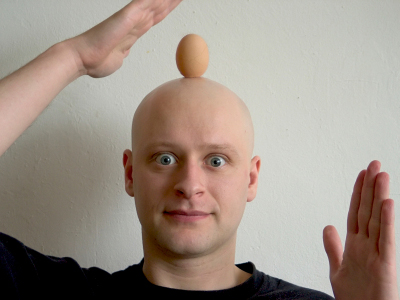 So, you're looking for a job.  My condolences.  As a former job-looker myself, I know how difficult it can be.  In my case, I'm so eminently unemployable that I had to invent a job that no one could fire me from.  If you can do the same, then go for it!  But I'll understand if you'd prefer to find something that has benefits and a stable paycheck.  I've heard those things are neat.
Anyway, I'm guessing your job search has been made slightly harder by your friends, family and former colleagues occasionally uttering horrific pieces of advice like:  "If you don't have a job, then finding a job should be your job."
Sounds great!
There's nothing quite as special as your loved ones telling you that you should feel guilty any time you do something fun instead of wallow in the slow, crushing depression of the job hunt, which can last months or years.  If they've done their work correctly, then you should also feel guilty while sleeping.  After all, those are precious hours you could be devoting to more soul-crushing job hunting!
And, in honor of that well-intentioned but still horrible piece of advice, here are a few other things you can do during your job search to ensure that you slowly, steadily and silently lose your sanity:
Walk Around in Your Pajamas All Day! 
Nothing will better remind you of your current situation like staring down at your food-encrusted pajama pants at 3pm.  Naturally, this implies that you haven't bothered to shower or comb your hair, either.  The smellier you are, the worse you'll feel about yourself.  Plus wearing pajamas will discourage you from leaving the house, so you can eventually become the kind of smelly recluse Emily Dickinson would have envied!
Stop Engaging in Any Kind of Routine! 
Routines make us feel normal and happy, which is why you need to stop this instant.  You should wake up late, eat meals at odd times, and stop going to the gym.  Basically I want you to wander around aimlessly all the time, not exactly sure where you're going, and (with any luck) not exactly sure where you were coming from.
Don't Do Anything Fun! 
Remember earlier when I tried to make you feel bad for doing anything enjoyable when you could instead be spending that time looking for a job?  Your life should be solely and completely focused on the fact that you do not have a job, and that every single minute you spend doing anything other than looking for a job is an inexcusable waste of your time.  If you live by this code, I give you four weeks before you stop bothering to shower – which means we've completed the cycle!
So there you go.  Healthy people recognize the need to maintain routines and balance a dedicated  effort to find a job with an equally dedicated effort to not let the job hunt completely consume you.  But you don't want to be healthy, do you?  I mean seriously, have you seen some of the food in the healthy section of the grocery store?  I don't even know what half of that stuff is, but I'm pretty sure it's not food.  Just because it doesn't kill you doesn't mean it's food.
---

Jeff Havens is a corporate speaker and trainer who helps people succeed at leadership, communication, professional development and more by telling them exactly what not to do. He's the author of "How To Get Fired!" and "Unleash Your Inner Tyrant!" Jeff currently lives in the Midwest but hopes not to someday. Not that there's anything wrong with it, of course. There's just other places, you know?  Connect with Jeff on Facebook, Twitter and YouTube.