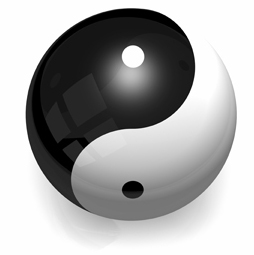 Feng Shui is a 3,000 year old Chinese practice which masters the art of capturing the balance and energy of a given space to provide health and fortune.  It's commonly used by some of the world's leading interior decorators and within some of our favorite celebrity abodes. So why not incorporate this into your work environment? I am sure most of us would say we would welcome fortune and health into our work-life, especially the fortune part. Here are four fun ways to incorporate Feng Shui into your office space.
1.  Avoid Clutter
Believe it or not removing clutter and bad energy is one of the key elements of Feng Shui.  I guess our mothers were right to teach us to pick up after ourselves. De-cluttering your workspace allows for new energy to flow to the area, and it also helps avoid the time it takes to find a last minute document your boss demands.
2. Find Your Chi
Feng Shui emphasizes finding energy (CHI) through the use of light. People who model their homes to fit a Feng Shui layout will often desire natural lighting to illuminate the living space. If your office is removed from light (meaning you don't exactly have the corner office with a window) there are still ways to make sure you bring optimum light (CHI) into your daily work-life. Think about an extra desk lamp, or removing any dark colors that would block light from coming into your corner.
3. Know Your Elements
There are five basic elements in Feng Shui which include: wood, fire, earth, metal and water. Each element is represented by a color. Feng Shui experts believe that incorporating these colors into a space calls different types of energy into the area.
Colors to Incorporate:
Water = Blue, black
Wood = Green
Fire = Red, pink, maroon
Earth =Orange, yellow, brown
Metal = White, silver, gray
Easy ways to use these colors could be to add a plant to your desk, or hang your child's art work up, children typically use a lot of primary colors found in Feng Shui. Think about using colored folders to pull in different shades and tones on your desk- it may also help you organize your paperwork.
4. Location is Everything
The placement of color is just as important as the color itself. For career success, Feng Shui experts encourage you to use red and orange and place these colors in the North and South ends of your office. This could be as simple as adding red flowers near a window or on your desk.  By placing these colors in in your office, Feng Shui enthusiasts believe you will achieve optimum balance and fortune.
Feng Shui is an ancient and treasured practice, but it is something that each of us can incorporate to bring a little balance and prosperity into our own work space. If anything, following these tips will at least brighten your office and maybe de-clutter your desk.