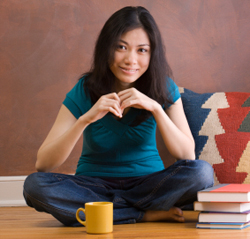 You land the job, breathe a sigh of relief, and then find out that the company wants you to start — gulp — in two weeks.
Two weeks?!
Cue the stress. There's homework to finish, exams to take, packing to do, not to mention finding a place to live and actually graduating.
Rarely do things happen at exactly the right time. People move before they've sold their house or have a baby before finishing school. Transitions are a part of life. As you transition from college to the workplace, here are some tips for balancing a new job with finishing school, moving to a new city and everything else that comes your way.
1. Manage stress
You've heard it all before: To manage stress, eat right, get sleep and exercise. It's all good advice, but part of what's stressing you out is that you don't have time to spend on these activities. Start de-stressing with a little peace and quiet. The Mayo Clinic recommends meditation as an inexpensive way to reduce stress wherever you are. When you're feeling overwhelmed, put on headphones and close your eyes or sit outside and listen to the wind in the trees.
2.Fulfill all responsibilities
Now is not the time to let senioritis take over. It's easy to feel like you can skate through the last couple of weeks of school. After all, you've done what you came to school to do — get a good job. But don't neglect your responsibilities. You will change jobs, and you may want to go to grad school. So it's important to maintain relationships with your professors, classmates and internship supervisors. You may need recommendations or might do business with them in the future. Plus, doing what you said you would is the right thing to do.
3. Be honest, ask for help
If you absolutely cannot fulfill your responsibilities, be honest. Your colleagues or significant other will likely be much happier if you tell them you can't, rather than miss a deadline or turn in less than your best work. Sometimes, you have to let people down in order to do what's right for you. It's also important to remember that asking for help when you can't complete something is by no means failing. You may need to lean on a friend to help you pack while you're working, or a colleague may have to help you set up for a presentation.
4. Is it right for you?
If you can't negotiate a later start-date for your new job, ask yourself if the position is right for you. It might be best to wait until your schedule is clearer if taking the job means shirking on commitments that are very important to you or if the transition will create unmanageable stress. Then, when you're ready, you can focus on enjoying and doing your best at your new job.