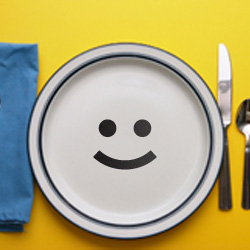 A job interview can be a very stressful event for a potential candidate.  Eating out with the person who might become your boss can add another layer of worry to the process.
Next time you're going to be interviewing during a meal, keep these things in mind:
1. Manners Matter
Brush up on your table manners and how to handle utensils.  There are a lot of resources out there, including Emily Post's books and website.
Ask a friend if you keep your mouth shut when you eat. Make sure you are holding your fork and knife correctly when you cut up your food, and when you eat. Also be aware of how utensils should be placed when you are in resting position and in finished position. Remember that if there are multiple utensils, start on the outside, and go in. If you order a salad first, then use the small fork, which should be on the outside left. If you do not order a salad and there is a salad fork, leave the salad fork on the table, and use your main fork.
Are you unsure which bread plate and which water is yours? Your bread plate is on the left of your fork. Your drink is above your knife on the right. If you use butter with your bread, put it on the plate first with the butter knife, then use your knife to butter one piece at a time.
2. What About that Cocktail?
What if your potential boss orders an alcoholic beverage? If at lunch, do not order a cocktail. If at dinner, order one, and drink it slowly.
3. Check the Menu Ahead of Time
Look at the menu online ahead of time, so you do not have to think a lot about it at the table. Do not order the most expensive thing on the menu, and try to order something that can easily be cut-up. I would stay away from finger foods such as a sandwich or burger, or hard to eat foods, such as spaghetti.
Stay away from any foods with a strong order, or that have a big presentation. You don't want to call attention to yourself in that way. Seafood is also a poor choice. Just having seafood at the same table makes some people very uncomfortable, because of allergies or a strong dislike for it.
4. It's About the Interview, Not the Food
I have a friend who was on a job interview at lunch, and said she could not get the ketchup to come out, but kept on trying because she did not want the interviewers to see her as someone who easily gives up.  When the ketchup finally did come out, it splattered out and ended up all over the place. Try to think this kind of thing through before the interview, so you can just focus on your answers and the conversation, and not your food challenges.
Ready to tackle the dining job interview? You need a job first. CareerBliss has millions of jobs.