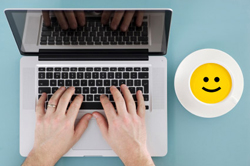 Hiring managers have to sift through a virtual avalanche of emails on a regular basis — the least you can do is try not to tick them off with email annoyances.
A study projects that in 2012, a person will receive about 77 business emails per day. Yikes! No wonder hiring managers have developed pet peeves.
Your best bet is to be simple and professional — sounds easy enough right? But Elise McVeigh, owner of McVeigh Manners and the manners expert for the Dallas Morning News, notes that an informa tone is a common problem among job candidates.
"Remember that this is a first impression, and getting an interview may depend on how well the email is written," McVeigh says.
Have you ever been guilty of the following common email transgressions?
1. Vague Subject Line
A recent tweet by @MarshaEgan, e-productivity expert and workplace productivity and leadership coach, offers an important email best practice:  "Create a very detailed subject line," she says. "[It] helps the reader set the right priorities." (Hint: Follow her on Twitter for some serious career etiquette advice).
This goes for forwarded emails as well. A lot of times, a chain of emails might change the topic and the subject line may no longer be relevant.
2. Text Talk (LOL, TTYL, Thnx)
To avoid the risk of your reader not having a clue what you're talking about – not to mention looking like a teenaged texter – shy away from the shorthand.  This includes abbreviations, McVeigh says.
3. Lame Fonts & Kooky Colors
Save your creativity for your online portfolio or Pinterest boards. Emails should be clean and professional. Stick to normal fonts that aren't too distracting. Remember, black font is classic!
4. Attachments with No Body
Egan mentions in her blog Inbox Detox that sending someone an attachment without explaining it in the body of the email is just plain rude.
"Take a moment and tell me what is in the attachment. One brief sentence will do nicely," she says.
5. Unnecessarily Replying All
This is such an annoyance that some companies have started to remove the "reply all" option, according to a post by Egan
.
"Be frugal with who's copied on your responses. Not only will it save them time, you won't get their response – so you'll get less email too," she says.
6. Writing 'Thanks in advance'
Not only is this a little presumptuous but also too informal. McVeigh offers a more professional alternative: I look forward to hearing from you soon. Thank you for taking the time to consider me for this position (or some appropriate variation thereof).
7. Grammar & Spelling Mistakes
Double — nay— triple check your spelling and grammar.
"I have heard employers talk about seeing grammatical mistakes in emails from job seekers, and this is inexcusable. It is a big red flag when you are looking to hire someone," McVeigh says.
Two methods of minimizing error are: read letters out loud and never submit an email without taking a break before rereading. And, please, double check spellcheck: You'd be amazed at how quickly "inconvenience" misspelled turns into "incontinence."
OK, we're only human and we're bound to make a mistake or two while writing up countless emails during our job hunt. Have you seen the cool "undo send" feature in Gmail labs?  It enables a 5-second delay in which you can un-send for those oops! moments.
8. Long-Winded Life Story
Make your point in the very first sentence.
"Being direct is far more effective in gaining the results you need," says Hunter Valmont, President and CEO of Hunter Valmont Public Relations and communication expert. "Getting to the point lends itself to great time and project management."
So, save yourself and the hiring manager time by snipping the fluff!
Are your email skills up to snuff? Find an employer to send one to – CareerBliss has millions of jobs.