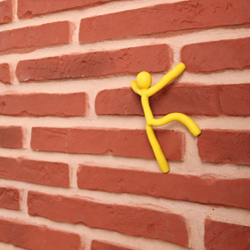 From clamming up at a meeting for fear others will think your idea is foolish to sticking with tried-and-true assignments when you'd actually love to attempt something different, workers often take the "safe" route. But while such actions may feel comfortable in the moment, giving in to anxiety and self-doubt can have long-term repercussions both personally and professionally.
Here, experts offer some tips on how to deal with workplace fears and develop the confidence needed to keep a career moving forward.
1.  Examine Your Fear
"The first step to working with fear is to notice that you are experiencing fear. If you can tell yourself that you're experiencing fear, as opposed to mindlessly procrastinating for two hours because you're afraid to start that new project, you can do something about it," says Krista Regedanz, a Palo Alto, Calif., psychologist specializing in job-related issues and anxiety.
The next step involves uncovering what it is that you're really afraid of. "In the case of the fear of failure, you can focus on what exactly about failure scares you," Regedanz says. "When you can answer what scares you about failure, ask yourself, 'If that thing happens, what then?' If you keep asking yourself 'What then?' until you get to the bottom of what you're really scared of, you'll have information that you can act on. The same applies to looking foolish. When you get to the bottom of what you're really afraid of, it's often not as scary as you had imagined."
2.  Know What You Want to Accomplish
Since putting yourself out there in the workplace can be scary, it helps to be clear on why it's worth doing. Perhaps you have your eye on a promotion but need to present stronger leadership skills to be a viable candidate. Or maybe you'd feel better about yourself if some of your ideas could be implemented rather than just being theories in your head. Once you have a specific goal, you can refer back to it for encouragement when challenges arise.
3.  Take Small Steps
All fears do not need to be conquered in one swoop. For instance, giving a whole presentation to a group may sound terrifying, but how scary would it be to offer one new idea at every weekly meeting? Breaking down your goal into manageable components can make the process less daunting.
"Start with baby steps," says Caroline Ceniza-Levine, co-author of How the Fierce Handle Fear: Secrets to Succeeding in Challenging Times and partner at the career-coaching firm SixFigureStart in New York City. "Getting on a cross-functional team can stretch you a bit without having to leave your current role. Even getting on a volunteer committee is a small but valuable stretch -- you will interact with different people and expand your network. These are low-risk opportunities to do something new, and then you can build on that."
4.  Build on Each Success
Cliché but true:  Success breeds success. The can-do feelings that come along with accomplishing each small step can bring about greater enthusiasm for tackling larger issues.
As Regedanz notes, "Once you conquer one fear, you can translate that experience into inspiration for conquering other fears. For example, once you stand up for yourself with a coworker, it's easier to stand up for yourself with a client."
5.  Consider the Rewards of Action – and the Costs of Inaction
Finally, focus on how good it will feel to have greater control over your career and your life when you don't have nagging insecurities holding you back. While overcoming fear can be difficult, so can living with the regret of not having taken your best shot.
Or, if need be, think of it this way:  "If you don't stretch, you'll stagnate and may become obsolete," Ceniza-Levine says. "If you're so fear-driven that future benefit is not a big enough incentive to try something new, then use another fear to propel you forward -- fear of being left behind by not stretching!"