Contrary to popular belief, job hopping is not just a trend among Millennials (born in the 1980s to early 2000s).
These days, it seems like everyone is job hopping!
A survey in Spherion's Emerging Workforce Study found that both Gen X (born in the 1960s and 1970s) and Gen Y believe changing jobs has advanced their career and earning potential. Check out the bar graph below for the full percentage breakdown.
And Baby Boomers aren't a particularly loyal bunch either."The youngest baby boomers, (those currently between ages 50-55) worked an average of 5.5 jobs by age 25," according to the Labor Department.
What triggers turnover? Deloitte conducted a survey to answer this question:
Baby Boomers: Most frustrated with employers that their loyalty and hard work goes unrecognized or unrewarded
Gen X: Lack of career progress is a top exit trigger.
Gen Y: Need to work somewhere with a strong commitment to corporate responsibility, volunteerism and a fun work environment.
Though surveys are never fool-proof, they all have one common factor: job hopping is increasing. This article cover both why and how job hopping can maximize your long-term career.
Our Changing Economy is Not Conducive to Employee Loyalty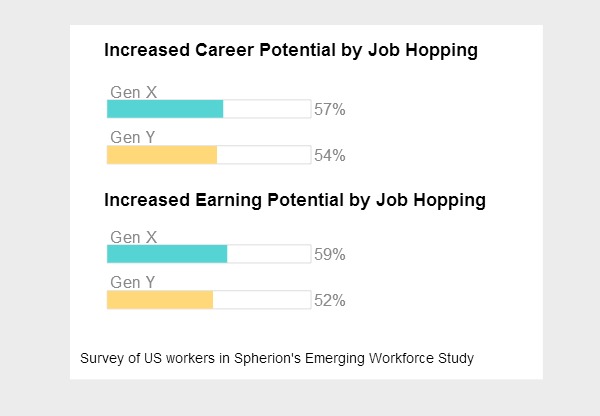 Lifelong loyalty no longer secures long-term job stability. Lynda Gratton, a workplace expert, goes as far as to argue that loyalty is dead today.
"Killed off through shortening contracts, outsourcing, automation and multiple careers," she told the Financial Times.
Plus, when the Great Recession hit, overall demand was low and all generations witnessed or experienced scary, sweeping layoffs across industries.
Baby Boomers were particularly hit hard with unexpected layoffs, more work and insufficient retirement benefits. And "a third of baby boomers surveyed say a lack of trust in leadership is a top turnover trigger," according to the recent Deloitte survey.
Today it's beneficial for employees to stay agile, relevant and jump on great opportunities.
We're headed toward a job market where employees want full control of their careers. In fact, software company Intuit predicts that 40 percent of the workforce will be freelancing by 2020.
Changing Jobs Gives You a Chance to Negotiate for More
Chances are, "no single company is going to give you a 10 to 25 percent raise year after year, but you can easily achieve that by switching jobs," says Jason Swett, founder and CEO of Snip Salon Software.
Same goes for a higher title. If you've hit a ceiling at your company, your best bet may be to apply to higher positions at other companies.
Changing Jobs Keeps You on Your Toes
Penelope Trunk, renowned career coach, makes the point that frequently changing companies is a great way to stay challenged.
Plus, "high performance allows you to build a professional network much faster than someone who stays in one position over a long period of time," she says in a blog post. "And a vibrant network will make finding jobs easier, so job hopping will not be a difficult path."
In fact, in the PR world, sticking to one company for too long is a sign of low creativity or staleness. There is common conception that staying at one company means "they've been able to develop bad habits, do things the same way, maybe even gotten a little lazy. And in many cases, this is true," says Sandy Charet, who has been a recruiter in the PR industry for over 20 years.
So Job Hop Strategically, Not Excessively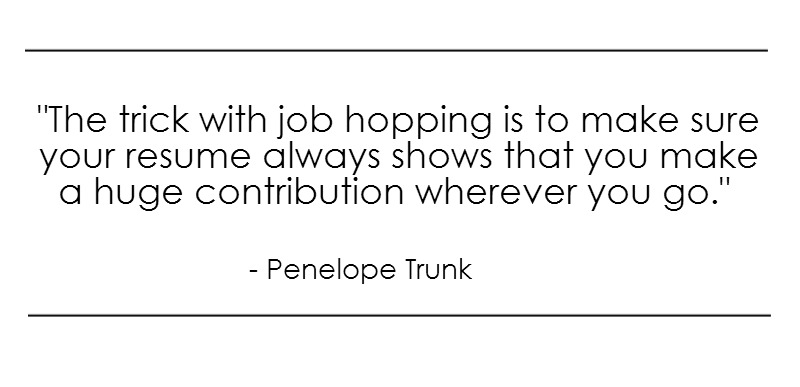 "You do have to be careful," Swett says. "The other side to this coin is that prospective employers will look at your resume and wonder, how long is this person really going to spend here if I were to hire him or her?"
In order to preemptively avoid this issue, Trunk suggests you tweak your resume.
"So, the trick with job hopping is to make sure your resume always shows that you make a huge contribution wherever you go," Trunk says in her post. "Loyalty is about delivery. Show that on your resume, the same place you show job hopping."
How much is "excessive" job hopping? Charet explains it very well:"If I see two jobs that each lasted less than a year, a red flag goes up," Charet says. "A one year stint is OK once or twice on a resume of 10 years, as long as there are some other places the person has stayed for two to four years."  Employers are often suspicious of resumes with a series of short stints.
Keep in Mind, Too Much Change Can Get Old Fast
Mike Moyer, author of Slicing Pie, has had about 13 jobs of increasing responsibility and pay over the past 20 years and eventually reached a point of diminishing returns.
"I enjoyed moving around, meeting new people, learning new things and earning more money," Moyer says. "However, as I get older those things are less appealing and I'd like to stay places longer, but I've developed a career based on change."
For more tips, check out 
3 Ways to Turn Job Hopping into a Positive.