We all know that person at work who is annoyingly productive. They reply to emails within minutes of receiving them, sail effortlessly through large projects and leave early, while the rest of us are still wrestling with that presentation we were supposed to finish last week but keep putting off… and off… and off.
So what's their secret? Have they actually managed to clone themselves? The truth is that we all have the ability to increase our productivity at work, and we don't have to create an army of Mini-Me's to do it.
Try these three things, and we promise you that you'll become more productive within one week:
1. Wean Yourself Off Coffee
I can already hear the howls of protest which will greet this one, but ask yourself this: do you rely on coffee to get going in the morning? Do you chain-drink cups of coffee throughout the day? If so, then you may have a caffeine addiction which is costing you more time and productivity than you think.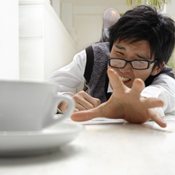 Drinking too much coffee disrupts your natural body functions, causing symptoms such as insomnia, irritability, anxiety and adrenal stress. This directly impacts your ability to perform at work by making you feel tired and strung-out. Caffeine also dehydrates your body, leading to a feeling of sluggishness – not to mention having a diuretic affect, wasting yet more time with constant trips to the restroom.
The surprising news is that you don't need coffee in the way that you think you do. According to a new study by the American Society of Addiction Medicine (ASAM), a large portion of the perceived boost you get from drinking a cup of coffee is caused not by the caffeine itself, but by feeding the brain's reward circuitry through the act of seeking out, preparing and drinking the coffee.
Healthier alternatives to caffeine include herbal teas, fresh fruit juice and carbonated water with a squeeze of lemon or lime. The best pick-me up of all? A simple glass of water. Hydrating your body leads to increased alertness levels overall, and a healthier state of mind.
2. Wait Till Noon to Reply to Your Emails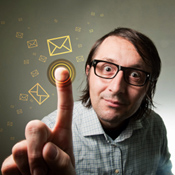 If you're like most people, the first thing you do when you get to work is to reply to your emails. If you think this is making you more productive, think again.
"The moment you open your email inbox, it's pretty much game over for your productivity, focus, creative thinking and business building," says Tehmina Zamen from Epreneur TV, which publishes inspiring tips for entrepreneurs.
Instead, she recommends setting aside the first 45 minutes of your day for tackling your most demanding task, such as writing that report you've been putting off. Your energy and focus are at their highest point first thing in the morning, so put that energy into completing a tough project rather than reading that funny email from your co-worker.
3. Take More Breaks
This one sounds counterintuitive, but more time spent in front of your computer monitor does not equal more work completed.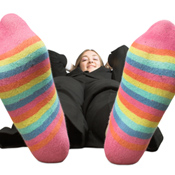 "Complex tasks, like writing or strategizing, take a lot of mental effort, and your brain can only focus for a limited amount of time," says Carson Tate, founder and managing partner of management consultancy Working Simply.
In fact, allowing your brain to switch off and idle for a few minutes every hour can allow you to reap the rewards of higher productivity. In a recent company blog post, "The case for Facebook," Keas.com cites survey data showing that employees who spent time on social media during their workday for just ten minutes at had 16 percent higher productivity rates than workers who took a normal 10-minute break, and 39 percent more productive than the control group who had no breaks.
So set yourself regular breaks throughout your day, and schedule activities you know you'll enjoy and look forward to. This might include a ten minute mid-morning break to sit outside and eat an apple, or a post lunchtime walk around the block at 3pm daily to get some fresh air and let your mind rest.
Your productivity (and your boss) will thank you for it.