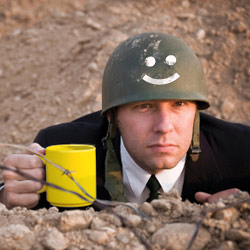 In an economy where employees often feel pressure to demonstrate value, work-related matters can dominate life. Yet long hours and sacrificing personal time can backfire by leaving people feeling burned-out and resentful. Strike a better balance with these six tips:
1.  Set clear boundaries
Ever notice how quickly colleagues who need to pick up children from daycare (and pay for every minute they are late) usually manage to get out the door? Think of your own time outside of work the same way -- as a necessary, not optional, commitment that needs to be honored.
Likewise, respect your work hours by making it apparent when you need to focus. Close your office door or hang a "do not disturb" sign. Set up specific times to check in with co-workers and superiors. As people come to know the flow of your day, you can accomplish more in less time.
2.  Promise results, not time
Saying "I'll have that report on your desk by 9 a.m." gives you greater control than "I'll stay late and get the report finished." "The difference may seem semantic – you might end up staying late to hit the 9 a.m. deadline anyway – but in those semantics lies flexibility," says Ed Muzio, CEO of Group Harmonics in Albuquerque, N.M., and author of "Make Work Great" and "Four Secrets to Liking Your Work." "You could choose to come in early or work from home instead. Or perhaps you already know you can do the report faster than others have in the past. By encouraging those around you to interact in terms of your results, you increase your own flexibility to manage your time as you see fit."
3.  Use technology as a tool, not a leash
Texts, E-mails, and voice messages can be both best friends and worst enemies when it comes to life outside of work. They can free a worker to be out of the office yet still connected, but they also can be intrusive interruptions to private time and a source of stress.
Boundaries again come into play, and they are different for each individual. Find what works for you, whether that be shutting down completely after hours, setting aside a certain time for electronics, or scanning only for select correspondence.
Also, watch what your off-site technological habits may be unintentionally saying. Responding too quickly or at odd hours may give the impression that you are constantly available.
4.  Don't Skip Lunch Breaks
Defending your right to a life outside of work doesn't apply only to hours spent at home. You owe yourself a workday respite as well.
"When we have too much to do, it is easy to skip lunch or try to do double duty by also throwing in a lunchtime meeting," says stress and wellness expert Beverly Beuermann-King of WorkSmartLiveSmart.com. "Getting away from our desk and taking a true lunch break is essential to ensure that our digestion has the time and energy to do its job efficiently and effectively. If not given time, we end up with poor eating habits and digestion upset, such as heartburn and indigestion. Taking a break at lunch also gives us a mental break so that we can come back to our projects with renewed energy and creativity."
5.  Use Your Vacation Days
Likewise, don't be tempted to think that the office can't survive if you take a vacation. Prepare colleagues and clients beforehand to ensure things run smoothly in your absence. Then, use that time off wisely.
Beuermann-King warns not to misuse days off by filling them with projects or too many activities. "It is important to plan the right vacation to meet your needs. It may be the time to reconnect to family or friends. It may be the time to kick back and relax. There is nothing worse, though, than returning from your vacation feeling exhausted and worn out."
6.  Articulate what you're not doing
Finally, when you find yourself getting too caught up in work, try looking at the situation in terms of what you are abandoning. The language may shock you into reprioritizing.
"Time you spend on one thing can't be spent on something else," Muzio notes. "For example, rather than saying to yourself, 'I'm just going to respond to a few E-mails,' say, 'I'm going to skip spending time with my daughter tonight in favor of working on my E-mail.' Sometimes it may be worth it, other times it won't.  Either way, the clarity will encourage you to make more informed decisions."