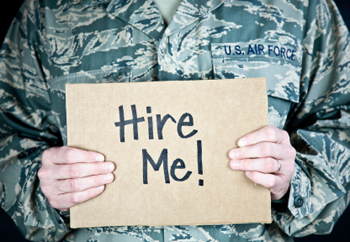 Entering a civilian workplace involves more than just using your job skills for a new purpose. Try these six strategies to make the transition easier:
1.  Ditch Military Jargon
Remember where you are.
"Life has changed. 2 hours after noon is 2 p.m., not 1400!" says  Matt Tuohy, leader of the Incepture Veterans Employment Taskforce (InVet), which provides job-related resources and employment services to military coming out of active duty.
"If you talk about your experiences as a PN on a CVN in the MED during a COMPTUEX, no one is going to understand a word."
2.  Loosen up a Bit
In addition to talking the talk, you need to walk the walk.
"I've worked with several veterans just getting out of the military; they're very polite but also tend to seem stiff and wooden with answers when relating to non-military counterparts," says Mike Barefoot, senior account executive for Red Zone Resources, a staffing and recruitment firm in North Carolina.
"The manners should still remain intact, but the soft skills of overdoing 'yes sir/no sir' should be integrated with conversational skills as opposed to the military dogma of only speaking when spoken to."
To this end, Barefoot suggests practicing workplace interaction with a non-military friend and receiving candid feedback that will help you become more comfortable.
3.  Get a Handle on Workplace Dynamics
Military occupational codes and ranks help everyone understand their duties and the chain of command. In the civilian world, roles and responsibilities are oftentimes less concrete. Through observation and asking questions to managers and trusted co-workers, veterans will eventually pick up on the hierarchy and the "way things work" at their new workplace.
Similarly, the pace at which things get done can be frustrating to someone who is used to giving or receiving an order with the expectation that it will be carried out immediately. "The sense of mission in any military organization, particularly one engaged in combat, is orders of magnitude different from that encountered in the typical civilian workplace," says Brian Bascom, CEO of the U.S. Veterans Chamber of Commerce. He notes that to succeed, the veteran must realize "few matters are so pressing as to be worth making enemies of folks who aren't as 'on fire' to meet the company's mission right now. Time frames are longer, the risk of bad consequences from a delay is much less, and the interpersonal dynamics are more sensitive to perceived offense."
4.  Make Relationships a Priority
"In the military, you may not always have gotten along with your supervisors or subordinates, but at least you knew that one of you was going to transfer to a new job within 12-18 months, so you could 'suck it up' and deal with the situation until the transfer," says Lisa Rosser, author of The Value of a Veteran: The Guide for Human Resource Professionals to Regarding, Recruiting and Retaining Military Veterans. "That transfer is not a given in the civilian world, so you will have to work harder at trying to build good working relationships."
Rosser notes that unlike military, most civilians work "at will," meaning they can quit immediately with no warning and also can be let go. "If you have poor people skills now, and you bring those to the civilian workplace, don't be surprised when people who work for you start quitting or at least complaining to your boss that you don't treat them well. Don't be surprised when your boss disapproves of this behavior and expects you to change."
5.  Find a Mentor
A good comrade who has your back is always a valuable asset. Find someone within the company who can help make your adjustment easier. Bascom suggests contacting the human resources department to be paired up with another ex-military member. "Having a mentor provides a vital 'reality check' for the veteran, as well as an avenue for management to provide feedback to the veteran. Large companies have instituted mentorships for veterans because they increase retention, decrease friction, and result in higher productivity."
6.  Play to Your Strengths
Lastly, remember that while there are differences between military and civilian workforces, there also are similarities. Strengths that made you an effective serviceperson can continue to serve you well. As Tuohy notes, "The traits that a veteran brings out of the service have great value. Loyalty, dedication, work ethic, punctuality, adaptability, and reliability are the traits that overlie the specific skill sets that the veterans possess. Playing to these strengths, the veteran will rapidly be able to adapt to the new organization."