In this competitive market, job seekers are turning to some whacky, out-of-the-box techniques to shine among the massive stackof boring resumes.  It seems like every other week there is someone having their 15 minutes of Twitter fame with clever, catchy job searching stunts.
For instance, you might recognize Matthew Epstein and his mustache. He was the guy who created GooglePleaseHireMe.com, where he hosted a quirky video resume (without pants) for a product marketing position at Google. It went viral, catching the attention of Tech Crunch, Mashable and even ABC.
If you're thinking about going for an unconventional resume, Epstein suggests you "pursue a creative job application idea that they feel comfortable with, but more importantly, aligns with the employer's personality and product," Epstein says.
But is creating a catchy campaign or self-promotion enough to really impress an employer enough to snag a job?  Check out these top 'Hire Me' campaign tactics and see what happened: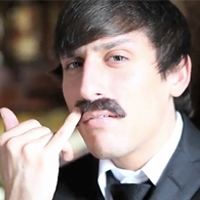 1. Matthew Epstein, The GooglePleaseHire.me Guy
Epstein's creative, hilarious resume video, which introduces his fun-loving, humorous personality, received nearly half-a-million YouTube views, 400,000 unique visits and 720,000 page views for GooglePleaseHire.me, and a ton of job interviews, according to his
blog
.
So, did it work? Ultimately, Google turned Epstein down — but he landed another dream position at SigFig, a startup in San Francisco!
When asked how he might have done his campaign differently, he gave two solid tips:
"I probably would have done a better job at providing tangible reasons as to why employers should have hired me," he said. "At the time I had already been working at an agency for three years and had a lot of great success metrics under my bel ... yet a lot of the reasons I gave [in the video] to hire me were fluff."
Secondly, Epstein said he would have created a stronger tie between his video campaign and his blog post describing his journey.
"People love a good story – they like a beginning, middle and end (preferably a happy one)," he said. "[The blog about the journey] basically ended up as an afterthought."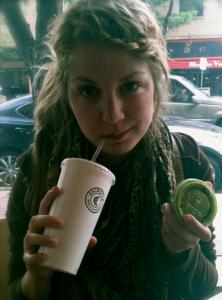 2. Bianca Cadloni, The Chipotle Girl
Cadloni loves Chipotle and badly wanted a job at Chipotle corporate as a social media or public relations coordinator. She created a website HireBiancaC.com (which has since gone dark) solely dedicated to her Chipotle resume cleverly titled "Will Work for Guacamole."
So, did it work? Although she didn't get the job at Chipotle, she landed a position as a social media specialist at Cactus, a full service advertising agency. And, in fact, she's thankful Chipotle did not hire her after all!
"That personal branding and splash into getting my name noticed was what it took for me to get a job somewhere else," Cadloni says. "Now of course that's not a guarantee for everyone, but you have to work at something to get something."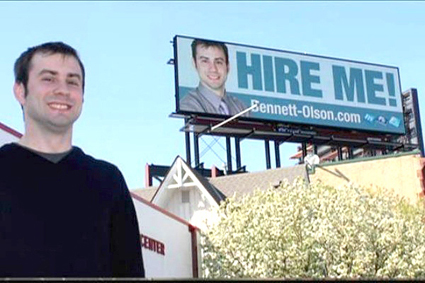 3. Bennett Olson, the Billboard Guy
Billboards aren't anything new — they've been around since the 19th Century. But 22-year-old Olson is one of the very few job seekers who used the classic billboard to advertise his resume website. Last April, he spent $300 for an eight second time slot on a rotating electric billboard for 24 hours.
He got plenty of attention from local media outlets and larger online publications, like the Huffington Post, TIME and MSNBC.
So, did it work? Yes! About a month after the billboard went up, he accepted a marketing and sales position at Design & GKS Services, a 3D scanning company.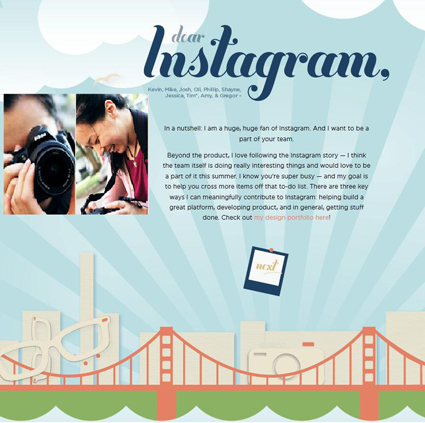 4. Alice Lee, the Instagram Lover
Lee, 20, is a University of Pennsylvania student who is an avid Instagram-er. She set out to score an Instagram internship.
She created a beautiful website titled "Dear Instagram, With Love, Alice" that talks about her passion for photography and technology, which would fit perfectly at Instagram, the photo sharing technology start-up.
So, did it work? Well, she did manage to get the attention of Instagram's founder Kevin Systrom who spoke with her on the phone, but said they aren't hiring any interns. Don't worry, there's a happy ending here: Lee was offered an internship with Path, a super cool smartphone application company.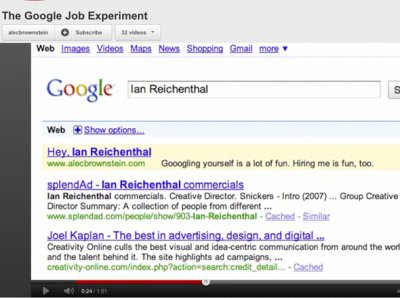 5. Alec Brownstein , The Sponsored Links Guy
When advertising firm Young & Rubicam's Executive Creative Director Ian Reichenthal Googled himself on a whim, he found the search result pictured above.
Notice the highlighted (sponsored) portion of the screen shot above:
Hey, Ian Reichenthal. Googling yourself is a lot of fun. Hiring me is fun too.
Brownstein, 29-year-old advertising copywriter, bought sponsored links attached to the names of top-advertising directors, taking advantage of the fact that we all -- come on, admit it -- Google ourselves.
So, did it work? A few months later—bam! — Brownstein was employed by top-advertising firm Young & Rubicam. "I thought it was funny right off the bat," Reichenthal told NPR, which reported that the firm made an exception for Brownstein when it comes to considering out-of-the-norm applications.
And, to wrap it all up …
There are a couple patterns among these "Hire Me" campaigns. One, the successful ones are especially relevant for social media and marketing related jobs.
"So this is a good demonstration of the marketing bent in mind," say Raj Sheth, CEO of Recruiterbox.com.
Of course, even if you're not in marketing or social media, standing out from the crowd is always a great idea.
"We once hired someone who simply spotted a problem on our website and showed us how to fix it without any prompting," says Sandip Singh, CEO and founder of fundraising website Go Get Funding.
Another pattern among successful campaigners is they don't necessarily end up at their targeted companies — but still catch the eye of another great employer elsewhere.
These unusual tactics "show initiative and you can learn a lot about the candidate even before the interview," Singh says.
So even though neither Google nor Chipotle nor Instagram offered the respective enthusiastic campaigners a position at their company, each serendipitously found their dream jobs. Happy endings all around!