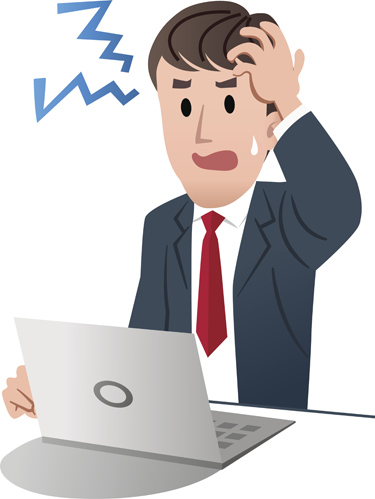 You've just graduated. Congratulations! Your grades are high, you aced your exams, and the future looks bright. Diploma in hand, you log onto a popular job site to snag that first job.
How hard can this be, right?
You click a job and read. You frown. Click a second job. Another frown. A third job.
Hmmmmm.
"Looking for mailroom worker with 2 years' experience." "Need receptionist, minimum 3 years' experience." "Need new burger-flipper, MUST have at least 4 years' experience flipping burgers."
In short, you are now facing a problem which has dogged Man since the dawn of time (okay, probably not that long, but it's a problem nonetheless): how do you get the experience to land a job which requires a worker with experience doing the job?
It seems like a Catch-22, but luckily for you, here at CareerBliss we have oodles of experience helping new graduates jump this first hurdle to land the job of their dreams. Try some of these techniques, and you should be on your way to your first day at work before you know it.
1. Embrace Internships
There is currently a big hoopla in the press about whether it's legal to offer unpaid internships. Whichever side of the bandwagon you stand on, it's worth noting that a 2013 study by the National Association of Colleges and Employers shows that 55% of students had an internship while in college.
There's no two ways about it – applying for an internship while in college or university is still the smartest way to kickstart your career. With the experience of working in a real live company fresh under your belt – not to mention inside contacts and references, you'll be in a much better place to start your job hunt.
2. Engage Stealth Mode: Get in at the Bottom
So you want to be a big-name magazine editor. Who wouldn't? Unfortunately, most 'dream' jobs are never advertised, and this fact can hit you hard when you first start looking for work.
Yes, we know your passion for motorcycles could take 'Big Beautiful Bikes of the World' to new levels, if they would just give you a chance… but why should they give you a chance, over the thousands of other hopefuls who share your adoration of all things loud and shiny?
You have but one shot: squeeze you way into the company in any way that you can.
It may grind your gears to apply for a minimum-wage delivery position at the magazine's headquarters when you have a degree with honors, but look at it this way: how does James Bond get into a building that holds his prize (of jewels or beautiful women)? He disguises himself as the mailman. Once he's in, he can walk around the place freely, make friends on the inside, and once he's gained their trust, he quietly ditches his mailman outfit in a cupboard and puts on his business suit. The company guard sees a polished professional, and happily lets him in.
Apply this Secret Agent technique to your job search. With a master plan and a lot of persistence, you too can 'stealth mode' you way into almost any company you want. But you must first have the humility to wear the mailman's suit.
3. Network Your Way in Using LinkedIn
If you have a social media account, you'll know all about the power of networking. It's amazing how small the world is, as any student who's discovered (to his or her mortification) that their mother once babysat the little brother of your Biology teacher – and they are now sharing delightful comments about how cute you were as a baby all over your Facebook wall, after reconnecting online.
Get the message: no matter what you want to do in life, there will always be one person in your friend circle who knows someone, who once met someone, who knows someone who can help you get a job.
If you haven't done it already, pay LinkedIn a visit and get your first profile page up and running. If you've already done an internship, enter your company name, connect to the people you met there and the site will show you who they know in similar career fields. Ask for an introduction (never cold-email a person you don't know) and you'll be off to a great start.
4. Let Facebook Be Your Best (Professional) Friend
If you don't want to be bothered with LinkedIn, Facebook now displays people's jobs and companies on their profiles. Browse your older friend's pages and see who works where, then message or ask to meet them for a chat about how they landed their job. Chances are, they'll be flattered you asked, and may give you valuable tips or even offer to ask around about internal job openings. A personal recommendation from an employee can overcome the lack-of-experience barriers in many cases.
These are just some of the ways you can get your first job without any experience. Use your imagination and don't be put off by all those mean job ads, and good luck on your path to success!
---
Natasha Rhodes is a careers expert and writer for CareerBliss, an online career community dedicated to helping people find happiness in the workplace. Check out CareerBliss for millions of job listings, company reviews, and salary information.