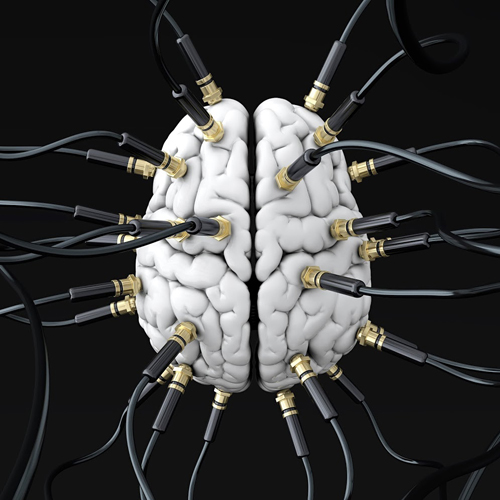 Can't Concentrate at the Office? These Sites Could Help You Out...
A new study published by the Journal of Consumer Research has shown that a certain level of background noise can actually boost your concentration at work. Well-known novelists and authors have long promoted the benefits of working in a busy coffee shop rather than in a silent room, and that claim is now backed up by science.
According to the study, background noise boosts concentration, creativity, and helps us enter a unique mental state called 'Flow,' where we can be working on something for what feels like ten minutes, then look up and find that three hours has passed.
"We found that ambient noise is an important antecedent for creative cognition," said Ravi Mehta, a professor of business administration at the University of Illinois. "A moderate level of noise not only enhances creative problem-solving, but also leads to a greater adoption of innovative products in certain settings."
The scientist's findings show that if you work in an environment that's either too loud, too quiet or too distracting, you may achieve a productivity boost by donning headphones and listening to a digital noise generator, in the form of either a website streaming service or a downloadable app.
What is a Noise Generator?
A noise generator is simply a piece of audio equipment which plays back a number of soothing sound effects, including white noise, natural sounds such as rainfall or ocean waves, or a roaring log fire.
An online noise generator goes one step further and allows you to combine your favorite sounds to make up your own personal productivity-enhancing soundscape - for instance, the sound of a babbling brook mixed with birdsong, wind rustling through the trees and gently tinkling wind chimes.
Should You Whistle While You Work?
Why not simply listen to music at work (if you're allowed to), rather than a sound generator? Research has shown that while listening to our favorite tunes at the office is more relaxing than working in absolute silence, listening to music with words can be a distraction if you're focusing on an active, creative task like writing or programming, as your brain tries to focus on two sets of words at once.
Music is also designed to elicit an emotional response, which can be counter-productive if you're trying to achieve the trance-like mental state in which you find that words or numbers flow effortlessly.
On the other hand, if you're performing mindless or repetitive tasks, it's been proven than listening to music on the job can actually increase your productivity, as it prevents you from becoming bored and slowing down... or wandering off to get some more coffee.
Other than office workers, other people who can benefit from online sound generators include:
Students
Migraine sufferers
Insomnia sufferers
Tinnitus sufferers
Young children and babies (for calming effect or as a sleep aid)
---
CareerBliss Top 5 Best Sound Generator Sites for 2015
CareerBliss.com conducted a test drive of five of the top-rated online sound generators.* We rated these sites for:
1. Quality of sounds
2. Number of sounds offered
3. Ability to customize sounds
4. Website design
5. Overall ease of use
* This is an independent review. CareerBliss is not compensated by or affiliated with any of the sites we reviewed.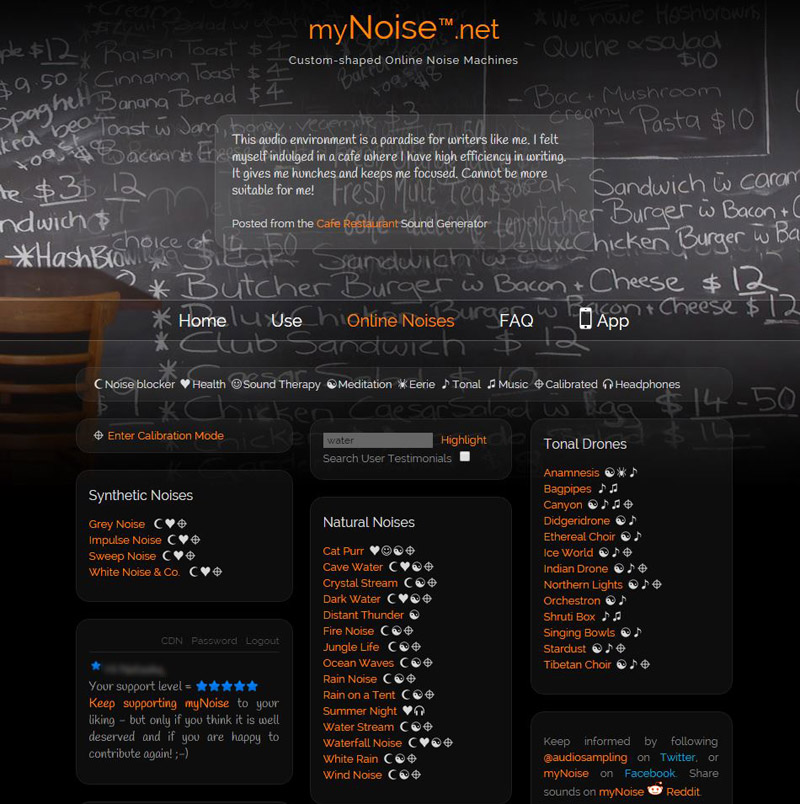 Overall - Described as "candy for your ears," MyNoise gets five stars out of five from the CareerBliss office team. Created by signal processing Ph.D engineer and sound designer Stéphane Pigeon, MyNoise.net is a soothing, healing Zen garden for the soul. The quality and customization level available for each of his sound recordings is unsurpassed, making this our #1 recommended site for concentration and relaxation boosts.
Customization - The site features around a hundred sound samples and soundscapes, divided into 11 categories: Atmospheres, PatternScapes, SoundScapes, Magic Generators, Brainwaves, Tonal Drones, Natural Noises, Synthetic Noises, Industrial Noises and Voices. Each is broken down into subcategories, for instance: Natural Noises features sounds such as 'Rain on a Tent,' 'Healing Water,' 'Fire' and 'Cat Purr.' Each of those sounds is then completely customizable by frequency (Adust Hz levels: 60-8k Hz; Adjust sound color: Brown, Pink, White or Grey sound; Adjust graphic equalizer; and named presets like 'Tranquil,' 'Comforting,' 'Calming,' 'Sleeping,' etc).
Soundscapes - MyNoise.net's digitally engineered Soundscapes are particularly impressive, featuring wrap-around immersive audio landscapes such as 'Osmosis,' 'Twilight' and 'Saturn Rings' that will make you feel like you're walking on the surface of an alien planet, or drifting across a twinkling starscape. You can build your own Soundscapes using the site's built in Generator, which plays up to 5 sound generators at once from one internet browser window (or just do what we do and open our favorite soundscapes in separate tabs, so they all play at once).
Sound Quality - The sound quality is crystal clear - high fidelity/ HD movie quality, featuring long original recordings with no obvious 'jumps' that some sites have when a sample is looped. Each individual sound can be further customized to your heart's content via an online graphic equalizer: for example, you can boost the bass, turn down the high end, or set the sample to the ANIMATE setting, which adjusts the levels very subtly as it plays to create an ever-changing 'Moodscape.'
Hearing Test Feature - A particularly impressive feature of MyNoise.net is a built-in free hearing test. The site saves the results of that test and uses the data to tailor the sound to your own individual hearing levels. To the best of our knowledge, no other sound generator site to date has that feature.
Favorite Settings: Our favorite combo at the CareerBliss office is: Fireplace with Autumn Wind, Babbling Brook and Northern Lights. (Hold down the CTRL key and click each link in turn to build a Soundscape out of these four sound samples.)
MyNoise.Net works best in Chrome browser with popup blocker disabled. The site is free to use. Regular visitors are restricted to the loading generators no faster than one every minute. With a small donation (minimum $5) that restriction is removed for a lifetime. 
---
We initially found this site when we were looking for a sound generator that could recreate the sounds of a busy coffee shop. Noisli is a great-looking site with a modern, intuitive design and excellent quality sound recordings.
The interface: There's no getting away from it: Noisli is a gorgeous-looking site. The design is modern and crisp, with sound effects shown as graphical symbols that make the site very intuitive to use. Best of all, the colored background is constantly changing, cycling very subtly and slowly through a range of pastel colors in a very calming and soothing fashion. Noisli is almost as relaxing to look at as it is to listen to!
The Sounds: Noisli features 16 different high quality sounds, including: Rain, Thunderstorm, Wind, Birdsong/ Forest, Leaves Rustling, Steam, Ocean Waves, Splashing Water, Fire, Twilight, Coffee Shop, Railroad, Industrial Fan, White Noise, Pink Noise and Brown Noise.
Customization: Each sound effect can be triggered by clicking on it, and the individual volume level adjusted. If desired, you can click on them all to have them all playing at once, to create your own individual relaxing atmosphere. If you don't know where to start, you can also set several different 'One Click' presets, such as Random, Productivity and Relax. These will trigger pre-set combinations recommended by the site's creators.
Noisli is a free service. You can listen via the website, or install it as an extension for Chrome. The site is free to use, and you can sign up for a free account to unlock productivity features such as a timer and the ability to save and share your favorite sound combinations.
---
AmbienceApp is a downloadable app rather than a streaming website service, but it made our Top 5 list because of it's impressive vision, scale and innovation.
Overall: From our first few minutes of use, we were impressed to find that this app was a kind of 'iTunes for Ambiance.' After downloading the app to your desktop, you get to choose from over 3500 high quality exclusive sounds that you won't find anywhere else, beautifully presented in a clean, clear and customizable interface. In terms of the sheer number of sounds available, this app far surpassed any others that we trialed.
The concept: According to their website, Ambiance is an "environment enhancer" designed to help you create the perfect ambient atmosphere to relax, focus or reminisce. Create customized sound mixes, cycle through playlists, set custom timers and more.
The Interface: Closely resembling the Apple iTunes interface, AmbienceApp will be intuitive to use to all Apple iTunes fans. Choose from a main sound group at the top of the screen, pick your favorite variation and then drag and drop your chosen sound effect into the 'Mixes' column at the side of the screen to create both Playlists and Mixes.
The Sounds: Excellent quality, these are unique recordings not found anywhere else on the internet. If you are a birdwatcher you'll be delighted with the 'Wildlife' categories, which will enable you to learn to identify various birds through their unique songs.
Unique Recordings: As well as the traditional sounds of nature, earth and fire, this collection features more unusual sound recordings in the categories of Military, Human Sounds, Household, Industrial, Sports and SciFi. If you want to make a mix of sounds recorded from outer space combined with birdsong, Buddhist monk chant and the ambiance of the Paris Metro train, you're in luck!
At $9.99 to purchase the full version, this is the most expensive sound generator App we demoed. However, you get what you pay for and this app comes highly recommended after a week of personal use by our reviewer. You can download the demo for free, with sound samples limited to 30 seconds.
---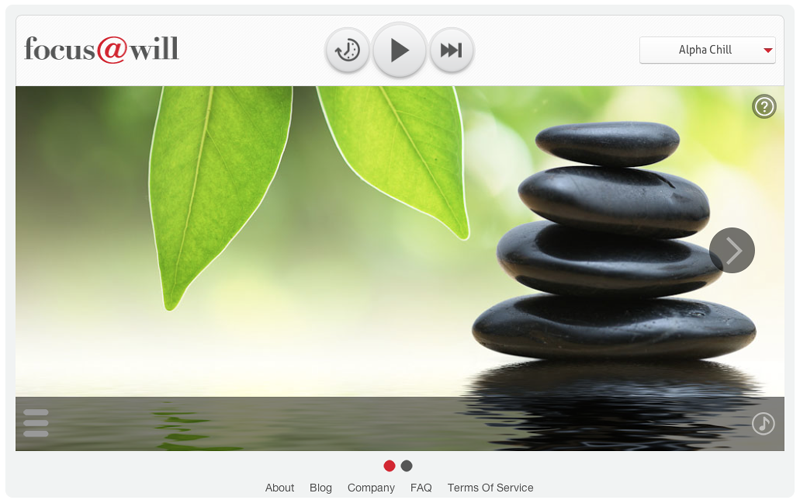 The Concept: "I knew that people instinctively liked to listen to music while doing work," says Will Henshall, founder and CEO, "(so I) started to look into the neuroscience of what's happening in your brain while you're trying to concentrate." Focus@Will was developed in partnership with leading neuroscientists Dr. Evian Gordon and Dr. Stephen Sideroff (UCLA Professor of Psychology). Focus@Will claims that "trials show typical 12-15% positive increase in focus bio-marker and up to 400% extended session time."
The Science: To find the most effective tunes and tones, Henshall, along with a scientific advisory board and UCLA psychology team, conducted two years of in-depth productivity research with 200 alpha participants. The group also commissioned a Bowker market research project with over 72,000 respondents before launching Focus@will in May 2013.
The Interface: Focus@Will has a number of instrumental playlists you can set to build a mood or create one. The interface is a clean, attractive media-style player with a drop-down list you can choose your playlists from.
The Sounds: The system has around 100,000 tracks, including: Classical, Focus Spa, Up Tempo, Alpha Chill, Acoustical, Cinematic, Ambient, Water, Baraque Piano, ADHD Type 1, Oct Beta test. It also has a LABs option to sample some sounds currently in development, such as cafe Focus, Cafe creative, Drums and Hums and Drum Zone, among others. For each Playlist, you can set the Music Energy Level to Low, Medium or High.
Focus@Will is available through your Web browser or via a mobile app on iOS and Android devices. A 30 day free trial is available without a credit card upon signup with your email address or via Facebook.
---

The Concept: "Coffitivity recreates the ambient sounds of a cafe to boost your creativity and help you work better. Our coffee shop sounds are supported by science and backed by a community of creative people using the app every day. Coffitivity is the perfect addition to your workday arsenal!"
CareerBliss Says: Coffitivity is geared to one function alone, and it does it well, recreating the atmosphere and ambiance of a busy coffee shop. According to a study by the Journal of Consumer Research, "A moderate level of ambient noise is conducive to creative cognition." In a nutshell, this means being a tiny bit distracted helps you be more creative.
Interface: This was one of the most simple and easy to use interfaces we tested. There are six recordings of different coffee shop atmospheres: Morning Murmur, Lunchtime Lounge, University Undertones, Paris paradise, Brazil Bistro, and Texas Teahouse. You can change the volume levels of each sample individually.
The Sounds: The recording quality is good enough that the gentle murmur of voices blends into the background as you work. Each sample contains different accents depending on which country it was recorded in; you are aware of the accents on a subconscious level, but the samples are cleverly mixed so that it is impossible to make out individual words or snippets of conversation (believe us, we tried!). The overall effect is extremely relaxing.
Besides the free online version, Coffitivity also comes in the form of an App for both Android and Apple iOS, for relaxation and creativity on the go. It is free to try, but premium signup (subscription options range from $3-$9) is required to unlock the rest.
---
Want More Sounds? You might also like to try these 10 FREE sound sites:
asoftmurmur.com - 10 blendable sound effects to enhance your creativity. Excellent sound quality and very easy to use.
ambient-mixer.com - A fun site, packed with unique and unusual soundscapes such as 'Hufflepuff Common Room' and 'Jedi Temple.'
naturesoundsfor.me - Basic mixer featuring free nature sounds.
rainycafe.com - Just two sounds which you can mix - cafe and rain. Simple and effective.
raining.fm - Mix three sound effects - rain, lightening and thunder. The site features an enjoyable 'raindrop effect' onscreen while sounds are playing.
rainymood.com - Just rain. Simplicity itself!
simplynoise.com - White noise, pink noise, brown noise to soothe migraines and assist in sleep aid.
rain.simplynoise.com - New from SimplyNoise - a high quality rain generator.
songza.com - Lyric-free songs and sound effects for boosting your concentration at work.
jazzandrain.com - Mix smooth ambient jazz with the sound of gentle rainfall - refreshing!
---
Natasha Rhodes is a careers expert and writer for CareerBliss, an online career community dedicated to helping people find happiness in the workplace. Check out CareerBliss for millions of job listings, company reviews, and salary information.