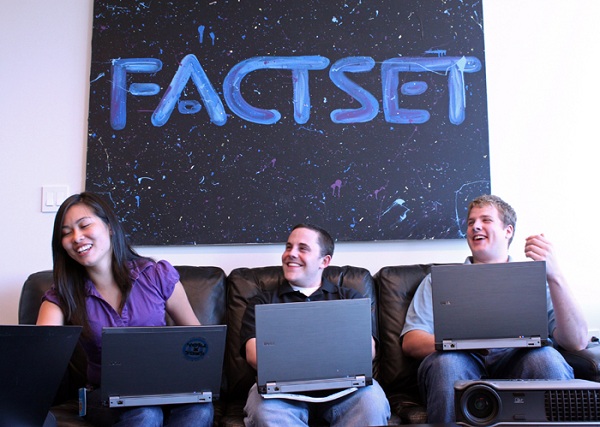 Let's set the facts: FactSet is a great place to work for intelligent, motivated and friendly professionals! The FactSet team is over 5,500 strong and each play an important role in supporting over 47,000 FacetSet users all over the world. The company values high standards, a healthy and rewarding environment, communities and diversity.
Founded in 1978, FactSet is one of the top financial information services companies in the industry. That's a fact! It was voted as one of the 100 Best Companies to Work For By Fortune.
What makes FactSet so unique? "FactSetters do not sit still," says FactSet CEO Phil Hadley. This is one of the foundational traits the company culture was built on back in 1985 (when it consisted of only 12 people!).
"From our rapidly evolving software to our frequent client visits, from Team FactSet competing in sports to giving back to our communities—we are not a group that sits around and waits for things to happen," Hadley says. "We make our company successful by actively working together in the office and having fun together after hours."
Top 4 Reasons to Become a FactSetter
1. Wellness Programs
FactSetter is certainly a place where you can grow long-term. That's why, the company offers wellness programs that reward healthy living behavior. Get this, it offers on-site massage therapists, acupuncturists, personal trainers, cholesterol and blood pressure screenings, $50 rewards for completing the wellness program and health fairs in every office! Stress...what's that?
2. Free Food
Vegetables are delivered straight to the office from a nearby farm! Fresh veggies and helpful cooking tips are just another way that FactSet shows it cares about the well-being of its employees. Lunch is catered four days a week from a top-rated cafeteria.
Bonus healthy perks: employees can work remotely; enjoy 15 days of vacation, 5 sick or personal days, and nine paid holidays in the first year. Rest is best!
3. Professional Growth
The learning never stops at FactSet. FactSetters are supported and rewarded for taking the Chartered Financial Analyst (CFA) exam and awarded bonuses for passing each level. FactSet also offers education assistance for approved, graduate level coursework. Most new hires entering Consulting, Engineering and Product Development begin their FactSet careers with 2-5 weeks of training. In addition, employees are provided with onsite, classroom-style trainings in management, leadership and various other subjects, as well as eLearning systems!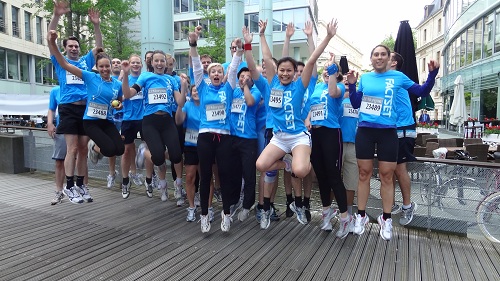 Some bonus cool perks about working at FactSetter: on-site gym, dry cleaner, car wash, break rooms equipped with video games, outdoor courtyard and more! These sweet perks never seem to end!
So...What Does it Take to Become a FactSetter Anyway?
"We are a spirited, zealous, social and hardworking bunch with the perfect balance of work and personal life," one FactSetter spokesperson said.
FactSet is looking for folks who are in for the long-haul. They're looking to invest in strong talented, dedicated people by offering great growth and development. If you love creating new ideas, and you're a team player, then you just might have what it takes to become one of the best in the financial industry!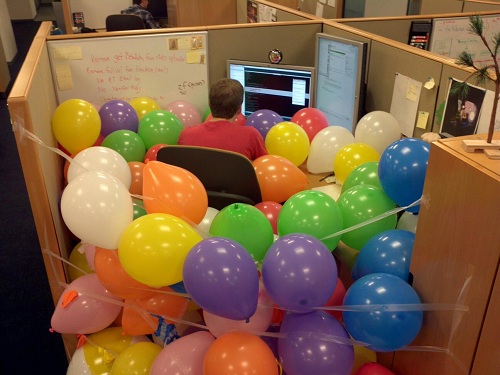 What's the FactSet Office Vibe Like?
In three words, it's: laid-back, interactive and fun! Teams are seated together to allow for strong collaboration (and balloon pranks!). Manager offices line the outer walls and conference rooms circle around the inside of the office building.
There are fully stocked kitchens on every floor and even couches with TV's in the break rooms for downtime.
 Here's What FactSetters Have to Say:
"At FactSet you work in an energetic atmosphere that encourages collaboration and self-motivation. It is a great feeling to be surrounded by optimistic colleagues who constantly support and encourage each other to work hard." –
Kathleen Ball, Consultant
"FactSet is the model culture for innovation. Placing emphasis on the 'team', we're able to learn together and more importantly grow together, adapting our product to meet the needs of the ever-changing investment world." –
Spencer Polaske, Product Developer
"During my time here, I've worked with people everywhere from Tokyo to India to California in order to solve a varied assortment of problems ranging from how to address client needs across time zones to how to shape a product enhancement. As a result, I've gotten a chance to see first-hand how the different talents of individuals who work at FactSet offices all around the world can be combined in order to create global solutions." –
Eunice Kim, Product Manager