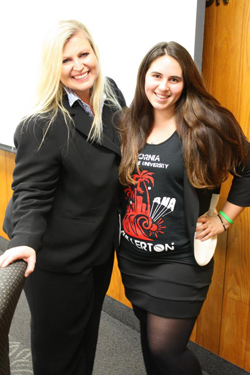 Our fabulous CEO Heidi Golledge recently headed over to the Cal State Fullerton American Marketing Association's Brand Yourself workshop to share some of her personal branding wisdom.
The key, Heidi said, is being passionate about your personal brand.
"Heidi Golledge gave priceless information to our members and inspired them to go out and perfect their brand!" the CSFU AMA wrote in a blog post.
Here are some key points Heidi touched on during her visit.
Be Selective: Don't let desperation force you into making career choices that don't fit you or your personal brand. Always be selective – aim high and work hard to achieve your career goals. Every job on your resume says something about you and your personal brand. Make sure you are sending the right message!
Brand Your Resume: Recruiters and hiring managers may look at more than a thousand resumes to fill a single position. To get noticed, you resume has to stand out. Add a branding statement to the top of your resume – a brief summary of who you are as a professional, what makes you different and what you have accomplished. Remember to tailor your resume so it addresses the specific needs of the employer.  At the same time, though, be consistent in your personal brand messaging.
[CareerBliss Guide: Cover Letter and Resume]
Use Social Media: LinkedIn, Twitter and Facebook are great personal marketing tools. Use them to your advantage by representing your personal brand in a positive, professional and consistent way. That means no crude, profane or offensive posts (consider a separate personal Facebook account with maximum privacy settings). Your online behavior is a representation of your personal brand, be sure not to tarnish it.
[CareerBliss Guide: Social Media]
Adapted from a post on the CSUF AMA blog