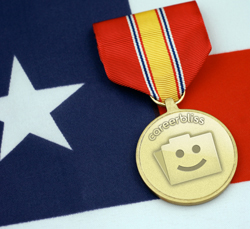 CareerBliss salutes the men and women who have served in the U.S. military -- thank you for your service.
Moving from the military into the civilian workforce is a massive transition and can present unique challenges,  but none too difficult for a veteran to surmount.
CareerBliss is here to help.
Here is a rundown of our articles for job-seeking veterans. Just click the link for the full article – and you can search jobs, research salaries and check out company reviews.
* Vet shares insights about moving into the civilian workforce: After a tour in Iraq, and then a medical discharge from the army, Courtney Gieber spent a frustrating year searching for a job in the civilian workforce.
* Resume tips for veterans: Your time in the military has yielded unbelievable experience and a unique skillset – you have to translate those things into civilian in your resume.
* Adjust to working with civilians: Entering the civilian workforce after a career in the military can be a massive culture change. Here are six tips for making the transition.
* Beat the top five challenges faced by veterans: An executive recruiter shares tips for recent veterans who are moving into the civilian workforce after serving in the military .
* Ready, Aim, Hire: Top Companies for Veterans in 2012: CareerBliss compiled a list of the top companies for hiring veterans.