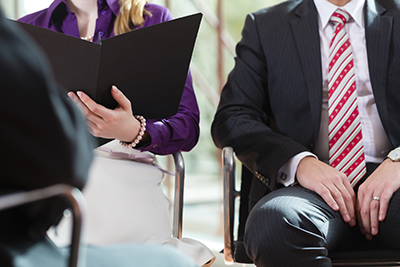 Sandi Webster had been interviewing budding young professionals for her company's management trainee program for years. But then she encountered something new: a dad at the interview.
"A young lady who had stellar Ivy League credentials blew her chance of working with me the minute she brought her father to our interview," says Webster, who owns Consultants 2 Go.
Considering that Webster works with many young professionals on a regular basis, this was bound to happen. Last year, Adecco conducted a survey of more than 500 college graduates and found that eight percent of them had a parent accompany them to a job interview, and three percent actually sat in on the interview!
Some Companies are Warming to the Idea
While the majority of managers in the job market share Webster's views on parents at Interview (it's a little weird), a handful of companies today are open to the idea.
David Cohen of SEER Interactive loves unconventional interviews in general. "I am open to a potential team member bringing a parent as long as they asked me prior to our interview and gave a reasonable explanation why," he says. "I don't do conventional interviews with candidates, so I'm fascinated by unconventional interviewing concepts."
At Northwestern Mutual, Michael Van Grinsven, field-growth and development director, told the Wall Street Journal that involving interns' parents has become a best practice to attract and hold talent.
"Some Northwestern Mutual managers call or send notes to parents when interns achieve their sales goals and let parents come along to interviews and hear details of job offers," according to the Wall Street Journal.
And get this: "They may even visit parents at home."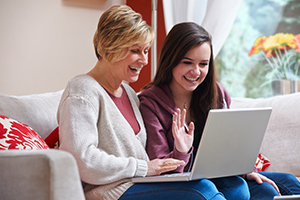 Still, We Advise Not to Bring Your Parents to an Interview
Northwestern Mutual is just a tiny sliver of companies that are encouraging this type of parent involvement for millennials. As a rule, we advise you not to bring your parents to your interview for most cases.
In Webster's case, she saw the candidate who brought her father as "someone with whom I would have to do too much handholding," she says. "Even the parent is sitting quietly sends a negative message."
Unless the company mentions that it's part of their culture, bringing your parent to an interview risks sending negative signals about your work personality: too much dependence, indecision and immaturity.
"I already have trouble taking a potential employee seriously when he or she uses a parent as a reference on an employment application," says Timothy Trudeau of Syntax Creative.
However, Showing Your Parents around Work is More Acceptable
If you've been working at a company for a while, it's okay to show your parents around a bit. "It shows you and them a different side of the work situation, a more human side. And in my industry the more 'human' we can remain the better," Cohen says.
Just make sure the workday doesn't come to a grinding halt just for your parents. Schedule something during break, and make it fairly quick.
Some Companies Even Host "Bring Your Parents to Work Day"
This is becoming common, especially among tech giants like LinkedIn and Google.
"If a company has a formal bring your parent to work day, you can decide if you want to take part. You know your parents well and how their presence would affect your work," says Leigh Steere, co-founder, Managing People Better. If you have a helicopter parent, my advice is to refrain from bringing them to work."