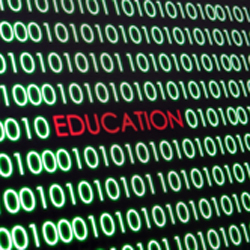 Today we have the capacity to earn a degree from a Top 20 business school without ever leaving our living rooms.
That's pretty amazing.
The Financial Times recently did a report on the increasing popularity of quality online MBA programs from established, ranked schools. One of these business schools is University of North Carolina's Kenan-Flagler Business School (ranked 19th best MBA program by US World & Report). They have an online version of their degree known as the MBA@UNC program.
We spoke with the MBA@UNC Director of Admissions Beth Flye about logging on to get your MBA.
What are the signs that it's time to go back to school for an MBA?
It's less about looking for signs, and more about determining where you are in life, what you want to accomplish and what your career endeavors are.  Are you interested in a complete career change? Are you planning on continuing down the same career path you were on prior to leaving the workforce? Are you just looking to keep your skills sharp, and stay competitive for when you ARE ready to go back to work?
Answering these questions will go a long way towards helping you decide whether going back to school is even the right option for you. For instance, MBA@UNC is better suited for those looking for career advancement versus an extreme career shift. So don't make the investment unless you're 100 percent sure it's right for you.
It's important to remember that some MBA programs may not be designed for someone who is looking for a radical career change, in addition to career enhancement.
Will getting an MBA guarantee a promotion?
Never assume a graduate degree will open every door you want. Observe others around you … and ask yourself some honest questions. Do they have MBAs? If so, have they climbed up the corporate ladder? If not, has their company rewarded their value? These types of questions will help you get an appropriate gauge of the value of diversity within the company, to help you determine whether further schooling is a must for advancement, or just a nice to have. Careful observation will tell you a lot about the environment.
Getting a degree is expensive. How do I know it's worth the investment?
I am a firm believer that education is ALWAYS a wise investment. It's like spinach; it can only be good for you. In the same vein, while I always advise our students to do everything possible to go after their goals, it's important they do this within reason.
Weigh the cost-to-benefit ratio by taking a close look at the full cost of the program — so not just tuition, but books, travel expenses and the like. Give some serious thought to your expectations regarding the results of earning the degree, and how it will propel you forward professionally and financially. Is it important for you to recoup your investment and, if so, how will this be accomplished? This is where an online MBA can be helpful, since you can maintain your current income while pursuing an advanced degree.