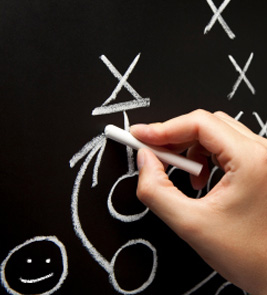 You're finally going to do it. You're going to get a real job. Your parents/significant other/cats have been bugging you for years. Your student loans are more than you could ever hope to make in a year. Plus, you're tired of eating hotdogs every night. Yep, there's no stopping you. Or is there?
While the job market currently looks better than it has in a long time, it's still not easy to land a position. You may be sending out resumes and only getting back rejections. If you can't find a full-time paying position, here are some alternatives that can help you build experience, avoid resume gaps and find a job.
1. Internships
You may be thinking, "Intern? Again?! But I'm 23!" It may feel like a step down when all of your friends are landing full-time jobs, but interning is one of the best ways to get your foot in the door at a company. The problem with sending out resumes cold is that people don't know who you are. So, why should they take a chance on you? If you're the office intern, however, everyone is familiar with your stellar work.
2. Volunteering
I speak from experience: Volunteering got me a job. I drove an hour to a local organization every Saturday for several weeks. In the end, they offered me a full-time paid position. Getting a job shouldn't be the only reason you volunteer, but the experience and connections you gain can bolster your resume and make you a top pick.
3. Pro bono
Pro bono work is a great way to build your resume and help an organization that otherwise couldn't afford to hire a web editor, IT guru or other specialized professional. Find a small company or nonprofit and offer your services at a reduced rate or for free. They will get a bargain, and you will receive valuable experience and a reference.
4. Professional societies
Take advantage of the networking opportunities at professional societies by volunteering your time. Many associations need someone to write their newsletter, manage their website, or plan their chapter meetings. You will gain visibility with the leaders in your field and sharpen your knowledge of the industry.
5. Part-time
Negotiate. Maybe a company can't afford to hire you for 40 hours a week, but they could squeeze you in for 20. You can gain experience and contacts and still have time to look for full-time opportunities elsewhere. Plus, when a full-time position does open up where you work, you're likely to be at the top of their list.
Still looking for that perfect job? CareerBliss has millions of jobs.