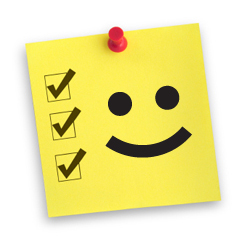 You have decided that it is time to move on from your current organization. For a variety of reasons, you just are not happy in your job and you need to find something that is more satisfying.
But what exactly are you looking for? What would be satisfying? What would make the new job better? The way to approach the answer to this question is by using a technique that companies use in the last few days of your employment: the exit interview.
The exit interview is a process used by organizations for gathering information from employees who are moving on. One of the main goals of the exit interview is to find out why the employee is leaving so that the organization can adjust.
You can do the same thing — find out why you are leaving so that you can adjust your search for a new job. You can do your own exit interview to find out what it is that you are looking for in your new job that isn't in your current job.
Your Personal Exit Interview Questionnaire
How satisfied are you with the way you were treated by superiors?
How satisfied are you with the level of recognition you received for your accomplishments?
How do you feel about the geographic location of your job?
How satisfied are you with the quality and cost of medical and dental care?
How satisfied are you with your overall job fulfillment and challenge?
How satisfied are you with your pay?
How satisfied are you with your promotion/advancement opportunities?
How satisfied are you with the quality and amount of training you received?
How satisfied are you with the working conditions?
How satisfied are you with the level of job stress?
How satisfied are you with your personal relationship with peers?
What things do you like

least

and most about your job?
In answering these questions, make sure that you do a few things.
1. Dig Deep
Get specific in your answers — the idea is to detail for yourself what you want to replicate in your new job and what you want to change. For example, if you were too stressed in the current job, what was it that caused you stress? Supervisor? Working conditions? Industry?
2. Prioritize
It is also important to be realistic. You won't get everything in your new job, so prioritize what is most and least important. A nice office might be wonderful, but you may be able to work with an average office. Conversely, pay might be important, but you need to figure out the comparable pay in other organizations for people doing your job. You might want a $50,000 raise—but it may be unrealistic.
3. Expand on What You Learn
Realize that what you learn from your own exit interview is the first step — you have to then begin to research other organizations, network and connect with people in those organizations, and find out what other companies are like. Most, importantly, you need to start framing your questions for potential employers so that you can begin to diagnose how well their working conditions fit your needs.
ABOUT THE AUTHOR
Robert A. Giacalone, Ph.D. is the Daniels Chair in Business Ethics at the University of Denver. He is a recognized expert on behavioral business ethics, exit interviewing and surveying, workplace spirituality, impression management, employee deviance, and the role of changing values in organizational life. His happiness blog, The Essence of Living, can be found at www.happinessisessential.com.