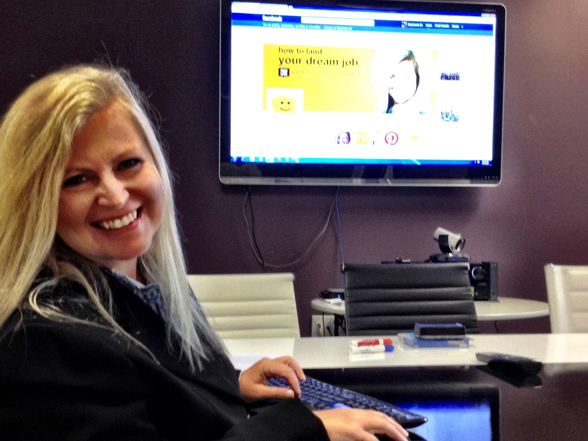 CareerBliss Chief Happiness Officer Heidi Golledge on Tuesday shared some of her wisdom gleaned from years of experience in the career-o-sphere Tuesday with  a great group of career-minded Facebookers during our first live career chat.
Here's a roundup of some of the questions CareerBliss Facebook friends asked and Heidi's insightful answers:
I've had many job interviews but no job offers yet. What's the key to getting a job offer?
"Before you are interviewing,  be sure to interview yourself. By that I mean ask yourself why you are the best person for the job. Make sure to come up with three solid reasons why you would hire yourself. Then, practice saying those until you have it down with confidence -- then, make sure to bring them up in the interview. Interviewers are looking for reasons NOT to hire you -- if you can give them the reasons TO hire you -- you are IN! Also, remember to write a GREAT thank you email!"
Here's more on following up after a job interview
What's the most important thing to do in a phone interview that would help you stand out?
"We suggest for phone interviews that you prepare as though you were going to a real, in-person interview. Have your resume in front of you, sit at a desk and wear a somewhat professional outfit. Be sure to be friendly, positive and answer your questions as though it's an in-person interview. Be sure to look up your interviewer on LinkedIn so you can get a sense of their hobbies, work history, and education so you can reference them over the phone."
Here's more on doing well with an over the phone job interview
How do you know what a company is really like before you work there and you're banging your head against the wall?
"Great question! CareerBliss has almost 700,000 company reviews that give an insight into a company before you end up getting dents in your head from banging it on the wall!"
Here's more getting a feel for company culture before it's too late
If you are applying for jobs out of state, should you mention in the cover letter or resume that you are willing to relocate at your own expense?
"Hiring managers are definitely looking for local candidates. A great way around that is to submit your resume with your name, email and instead of address put "relocating at own expense to [city name]."
Here's more on relocating for a new job
What do you when interviewers just talk about themselves and ask close-ended questions?
"The more an interviewer talks about themself the better -- it is often an sign the interview is going well! Ask non-invasive questions to the hiring manager. It is always good to also have three reasons why you are interested in their company and why you would be a good fit for the job!"
Here's more on asking questions during an interview
There are plenty more career tips from Heidi where these came from on the CareerBliss Facebook timeline – stop by and be sure to 'Like' us so we can keep you updated with the latest news and info from CareerBliss!