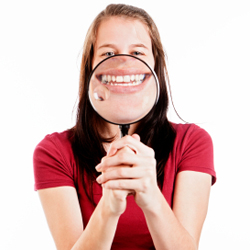 Think you have to be cut-throat to get ahead? You are way off base. While you can't please everyone, congeniality adds a boatload of brownie points in your job hunt.
Consider the research done by Joseph Grenny, author of Change Anything and cofounder and cochairman of VitalSmarts. He and his team recently conducted a study which analyzed 1,650 promotions and debunked the common misconception that you need to be a jerk to get to the top.
"Ninety-two percent said strong contributors who lack interpersonal skills are less likely to get promoted than those who are polite, candid and respectful," Grenny says.
If you're continuously passed up for that promotion, you may want to consider how you're perceived in the office. We aren't talking about changing your personality, but simple common courtesies, like flashing a smile here and there, habitually saying "good morning or taking an interest in a colleague or boss' problem is usually all it takes to be perceived as pleasant.
So, strike a good balance: while being too nice is an invitation for opportunists to walk all over you, no one's going to hire or promote a jerk.
Remember this:
1. Likeability is a Factor in the Job Interview
The boss-employee chemistry has to be right. Your potential employer already knows that you are qualified for the job (e.g. resume)—but the interview will determine how well you can communicate and whether or not you would fit in with the team.
If you are reserved, closed-off and disinterested, chances are you aren't getting a callback. In fact, likeability can be a deciding factor in a job interview.
"Let's face it, if I have a choice to hire or promote and there are two candidates who are both qualified, I am going to choose the one I like more since so much of business is about relationships and I will actively pick the person who is easier to work with on a daily basis," says Jodi R. R. Smith, founder of Mannersmith Etiquette Consulting.
2. Mistakes Are More Easily Forgiven
Likeability makes you way more approachable. And if you're more approachable, your boss will be more inclined to let you learn from any mistakes you make.
"Being a likable employee may make difficult conversations about workplace performance a lot easier and more constructive," says Kerri Garbis, founder of Ovation Communication. "Mistakes happen, and we all know that it's how you handle them that makes a difference."
If you're difficult, on the other hand, why even bother trying to work with you? Being friendly, open and easy to work with eases communication in the office, Garbis says.
3. Social Skills are Important to Success
Roy Cohen, author of The Wall Street Professional's Survival Guide, goes as far as to say that your success is directly linked to your social skills.
"The more finely tuned your social barometer, the more likely you will be viewed as a desirable colleague," Cohen says.
"The inverse," on the other hand, "being cranky and unwilling to establish friendly working relationships, will have fall-out, too. You will end up unwanted on teams and not included on important, and often below the radar, communications."
So, how do you bump up your social game? One simple solution is to make a small effort each day (key word: small -- excessive eagerness is always a turn-off!). Do something nice for someone. Hold the door open for someone behind you. Ask how your colleague's day is going. Small talk can do wonders.
4. But Likeability Can Have Diminishing Returns
So, your personality can make you more appealing (initially), boost communication and get you more involved in the office (again … initially), but that's all folks. If you rely on this likeability and focus too much energy trying to charm everyone in the room, you will start seeing the returns (aka No.1-3) diminish over time.
"People start to question your true motives and the company wonders whether there is sufficient return from their investment in you," Cohen says.
If you want the honeymoon period to last, do it by spending most of your time providing substantial results. Your colleagues will like you long-term if you add value to the company (hey, that's like money in their pockets!).
In order to land the job or promotion and succeed long term, take small measures to offer pleasantries, but failure to follow through on your results is going to turn what was once a fun, friendly office atmosphere sour and awkward really fast.
At the end of the day, being respected always takes precedent over being likeable.