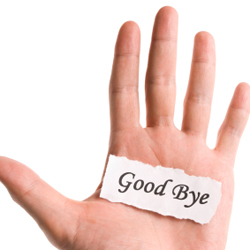 Small-talk can be painful.  And once you're in, the hardest part is to leave the chit-chat without coming off as aloof, unfriendly or just plain awkward.
You could always say: "Hey, is that Richard Branson?" suggests Dr. Adrian McIntyre, professor at the University of California, Berkley, "Then run away" (he's  joking, of course). The old "excuse me, I have to use the bathroom" trick is a common one, also.
But there are better ways to disconnect than to fib — after all, you have to be genuine to make a real connection. At the same time, the last thing you want to do is latch onto one person the entire night (and cramp both your style and his).
"You want to speak with a person long enough to leave a favorable impression, and you don't want to monopolize their time," says Liz Taylor of Etiquette Principles. Keep the convo flowing as long as it's comfortable for you both, says Dennis M. Grady, executive recruiter and partner at Spire Search Partners. "Key word being 'both,'" he says. This is usually about five to ten minutes. So … uh... then what?
Try one (or a combination) of the following exit strategies. Tell us how it goes!
1. "Hey, I've enjoyed talking to you"
McIntyre says this is the best way to start making your exit. "You need to be direct, without being rude or insensitive," he says.
Taylor would agree with McIntyre and says if you were gabbing with her, she'd find it perfectly acceptable if you wait for a lull in the conversation and say, "Liz, it's been a pleasure talking with you tonight — I hope you don't mind but I need to go and find a client that is here tonight. I hope we see each other at future events."
The key here to ending the conversation is expressing gratitude, says Michelle Mazur, PhD in communications. "Tell them you enjoyed chatting (only if you really did) and politely excuse yourself," Mazur says.
Bam. You're done.
2. "Here's my business card"
When it feels like it's time to wrap it up, reach for your business card. Chances are, if they have one, they will do the same and you can go your separate ways — all while leaving an open invitation to reconnect another time.
Taylor also reminds us to never write on a person's business card in front of them. "Wait until you get to your car and then take some general notes so that the next time you see the person, you can say, 'Liz, how did your son end up playing in his  big soccer tournament?'" she says.
3. "May I connect with you on LinkedIn?"
It's an alternative to the business card (if they're too old school for you). Steve Daar, teacher retirement expert at Teachers Retirement Help, is a proponent of mentioning LinkedIn to wrap up the chat.
"The traditional thing to do was ask for their business card," he says, "but I've found it is better to ask for their card and ask if it would be alright to connect on LinkedIn." Two is better than one!
Plus, LinkedIn is such a small step — it's worth it. "It's a second chance to be on each other's minds, and an easy, un-intrusive way to connect again some point in the future," Daar says.
4. "Excuse me I have to go [insert activity]"
Jordan Abshire, Esq. of Abshire Legal Search has given several talks on networking at Harvard Law, Duke, and University of Virginia law schools.
He says the most important thing to remember is that even though you don't have to articulate a reason to exit, you should do something after exiting. "Otherwise, it just looks like you grew tired of that person, even though you had nothing else to do."
So, whether it's approaching another person, grabbing a drink or taking a phone call – it's important to occupy yourself with something else. But, again, try and be as genuine as possible. You can only hang around the bathroom so many times!
5. "Have you met Ted?"
Well, it doesn't have to be Ted (shout out to How I Met Your Mother fans!). It could be anyone else you know at the event. This is an excellent tactic to free yourself up from someone with whom you don't necessarily care to connect at a later time, says Anne Miner, president of The Dunvegan Group.
"Here's someone I would like you to meet," Miner suggests as a transition.
This exit strategy is a favorite of Rebecca Johnson, networking expert and founder of Get Networking Now. She calls it the "hand off."
You just introduce someone else into the conversation and "say something like, I'm sure you two
have great things to talk about, I am going to make my way around the room!"