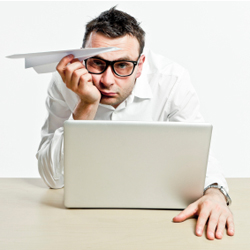 Lack of challenge is a leading cause of workplace boredom. Symptoms include: heavy sighing, clock-watching, tardiness, anger towards your boss, overeating and procrastination.
Being bored at work can kill your motivation, cause dissatisfaction and stunt your career growth. And it affects more people than you might imagine. According to a recent Gallup poll, 71 percent of American workers feel like they are not engaged in their work.
"Meaning, they are emotionally disconnected from their workplaces and are less likely to be productive," Gallup said in a release.
But before you check out of work completely, consider the following boredom busters to help get you re-engaged:
1. Compete with yourself
Signs of boredom mean that you've got time for a good, old fashion challenge. You don't have to wait for your boss to escort you to the starting line. Do it yourself.
Is part of your job filing away documents? Try timing yourself and then beating your own time.  Competition with yourself is not only a great way to fight boredom but also leads to personal improvement.  When your boss notices your uptick in productivity, he or she may trust you with more challenges as well.
2. Break Out of Your Comfort Zone
What's a better way to feel a sense of excitement or adrenaline than to do something that makes you feel a little uncomfortable?  Maybe ask an unfamiliar colleague to lunch — someone whom you sort of know but would like to get a chance to know better. Lend a hand on a new, unfamiliar project or introduce yourself to a new department just for fun.
3. Come up with a New Organizational System
Another way to spruce up your daily work life is to give your tasks a new order. File away that pile of paperwork and documents in a manner that is most efficient. Don't stop there! Organize your virtual desktop folders as well, and use this time to back up your files on a hard drive. Changing up your work space overall is an excellent and simply way to break out of your rut.
4. Learn Something New
Consider asking your higher ups if they might subsidize classes to improve your skills as an employee. If this is not an option for your company right now, consider investing in yourself—it'll certainly do wonders for your boredom. Applying the new skills you learn in the classroom (or online) to your job is a challenge and, like self-competition, will jump-start your professional growth.
5. Make a Close Friend at Work
Someone you can casually take a 5 minute stroll with when you're feeling annoyed or completely uninspired. As tempting as it may be, try not to use them to vent about how boring your job is or gossip about your boss and colleagues — you'll end up doing more harm than good.
Instead, try to form a close ally with whom you can discuss stimulating topics. A dose of inspiration through conversation is sometimes exactly what you need to liven up your attitude about work.