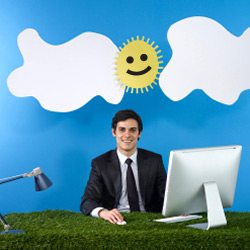 The new day dawns – fresh, bright and full of possibility. You go through your morning ritual: caffeine (likely), feed yourself (maybe), feed the cat (you better), shower (we hope) and then head into the morning sun to make your way to work.
It's gonna be a great day!
Flash forward nine hours (or is it 10, 11 or 12?). You return home feeling battered and bruised -- defeated. What happened?
You got your butt kicked by the workday.
Here are a few things to consider if you want to keep your stamina and morale high all day long and show the workday that you won't be beaten.
1. Strive for a Happier Commute
Whether it's by road, rail, water or air, the struggles that come with a  commute can cause your day to take a nosedive before you ever make it into work. Get your workday off to a better start by making  an effort to counteract the aggravations of your daily commute .
Consider:
Changing your attitude. Acknowledge that your commute stinks, then refuse to let it get you down.
Listening to your favorite music (or an audio book) rather than the death and devastation of the news or the morning drive talk radio host who always puts you in a foul mood.
Not indulging the urge to be a jerk. If you're driving, let people get over once and while – it will make you feel good. If you take the train, try not to elbow fellow passengers, maybe even give up your seat to someone who looks like they need to take load off.
[Start Your Workday with a Happier Commute]
2. Anticipate Annoyances
Longwinded colleagues prolonging a meeting; snarky comments from the boss; the bathroom closed for cleaning when nature is shouting -- whatever they are for you, you can be sure that you'll encounter myriad annoyances big and small during the workday. These can chip away at your morale – especially after that aggravating commute – leaving you vulnerable spiraling downward into negativity.
Consider:
Making a decision – and a corresponding effort -- not to be annoyed by the small stuff. Just let it go. You'll feel better in the long run, and have more stamina to deal with real problems.
Not taking it personally. If a coworker is rude or short with you, don't look at it as an assault on you personally. Maybe the coworker is just tired, upset, preoccupied or just a miserable person.
Not worrying about what others are doing. It's annoying to see people show up late, slack off and kiss you-know-what, but don't worry about it. Just make sure you're handling what you need to handle. The exception, of course, is when a coworker's lack of performance is starting to hurt you. If that's the case, the issue needs to be addressed.
[
How to Handle Poorly Performing Coworkers
]
3. Take Care of Yourself
Often the demands of the workday make it difficult to look out for Number 1. Meetings, reports, calls, so on and so forth – everything seems to conspire against you having a few moments to take care of yourself. Don't let the conspirators win! Everyone needs a chance to recharge, replenish and refocus.
Consider:
Learning to say 'no' (when appropriate). You want to be a valuable member of the team. But if you try to please everyone, you might end up not pleasing anyone because you spread yourself too thin.
[Do's and Don'ts of Saying 'No' at Work]
Enjoying lunch time. You may be tempted to power through the mid-day meal at your desk. But you'll do yourself a favor if you step away from the keyboard and get a change of scenery. Hit the break room, or get out of the office altogether.
Staying positive. Much of being happy has to do with attitude. Make the decision to be happy at work and stick to it.