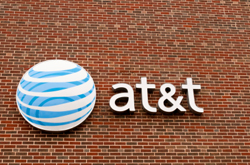 AT&T isn't hitting it out of the park with its customers. In fact, the company came in last in Consumer Report's recently released annual rankings of wireless providers.
AT&T is, however, faring a bit better with its employees.
According to CareerBliss employee happiness data, AT&T has an overall employee happiness score of 3.79 out of 5 -- based on nearly 500 company reviews submitted by employees during the last 12 months.  While that number isn't too dismal, it is a drop from the year before, when the company had a 3.85 overall happiness score.
Happiness scores are based on employees' rankings of several factors that affect overall job satisfaction. According to the company reviews, employees at AT&T are least happy with job security (3.14 out of 5).
"Terrible company to work for if you have entrepreneurial drive and ambition to grow," an AT&T account executive wrote.
Employees also ranked AT&T low on growth opportunity (3.20 out of 5) and compensation (3.22 out of 5).
The low rankings for job security, opportunities for growth and compensation may explain, in part, why AT&T received low scores for customer support in the Consumer Reports survey, said Matt Miller, CareerBliss co-founder.
"Those factors have a lot to do with  job performance and engagement," he said. "If you're feeling insecure, stifled or underpaid, chances are you won't be giving 100 percent, whether you realize it or not. It's especially harmful when it comes to support personnel, who have significant contact with customers."
The three highest ranked happiness factors among AT&T employees were:
Who you work with: 4.32 out of 5
How you work: 4.27 out of 5
The work you do: 4.21 out of 5
"AT&T, overall, was a good company to work for and to be a part of," an employee wrote.