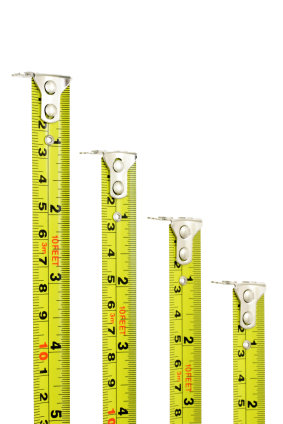 Past studies have shown that standing tall can pay.  One study in the Journal of Applied Psychology found that each inch above average height may net workers an extra $789 per year in salary (in 2004 dollars).
Researchers do concede, though, that there may not be a direct link between height and success.
However, "tall people may have greater self-esteem and social confidence than shorter people," according to Timothy A. Judge, PhD, of the University of Florida who led the study referenced above.
"The process of literally 'looking down on others' may cause one to be more confident," he says in the Journal article.
This got us thinking – do tall women potentially have an edge in the workforce, especially when it comes to working in male-dominated offices?
We spoke with psychology experts and several women who are perceived to be tall (and some who count themselves among the short) and talked to them about how their height has impacted their career.
Here's how to make your height work for you:
Posture Says it All
When we feel anxious or lack confidence we tend to slouch down. Curl up in a ball. Drop our heads—try to take as little space as possible.
"This pattern makes [tall women] look and feel 'less-than,' nervous, and withdrawn," says Sharon Jakubecy, certified Alexander Technique teacher and performance coach.
Instead, taking up space (e.g. standing in a power pose) is a great way to project more confidence and assertiveness.
"At work in the office, the woman who walks at her full height and allows her chest and shoulders to have an easy openness will be the most confident of all her colleagues, including the men," Jakubecy says.
You can't help but take notice of a tall woman's strong posture.
It's a Great Networking Ice Breaker
"While some people might think that tall people come off as more intimidating, on some levels I've found that it makes me more approachable," Lara Levin, a 5-foot-11 senior account executive at Allison + Partners says.
Generally speaking, most people "will not comment about how short someone is," Levin says, and "while it's not the most original conversation starter, people always ask me about my height."
"Then they always ask if I played sports in high school or college, which opens up the door to talk about hobbies and be relatable to clients and people that I meet while networking," Levin says.
What an easy ice breaker when you're networking -- use it to your advantage!
Own Your Height – Tall, Short or In-Between
Nearly all women we spoke with told us that height is an amplifier, but confidence comes from within.
For tall women who feel insecure about their height, Casey Bond, a 5-foot-9 content manager at Consumer Track offers this piece of advice:  "Sometimes you have to 'fake it 'til you make it.'"
It was this mentality that helped Bond feel more comfortable at a recent business dinner with a group of very petite coworkers. "In those instances, you can feel a bit like Sasquatch!" she says. "But what I've learned is that others perceive you to be the way you perceive yourself, and if you project confidence, others will see it."
This means owning up to your height, short or tall.
"I round up to 5 feet, and I look very young," says Sharon Rosenblatt of Accessibility Partners. "As a result, I've had to boost up my professionalism both on the phone and in person to make up for my apparent immaturity. As a result, I speak up more than my taller friends in social settings."
So, if you want to be successful, forget how tall you are relative to those around you in the office, especially men.
"What a woman does with her height and whether she embodies her full height will determine her experience of confidence, power, and success at work and in life," Jakubecy says.