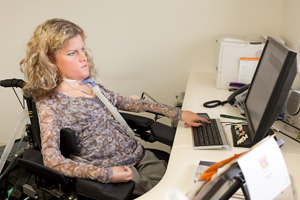 Lauren Scrivo, who has a form of muscular dystrophy and relies on a power wheelchair and a ventilator, interned, volunteered and furthered her education before getting hired to work in the PR department of the Kessler Foundation.
Lauren Scrivo has some important advice for disabled job seekers: Don't give up after rejection.
A job seeker with a disability will face rejection many times, even by employment agencies that claim to specialize in placing disabled people, says Scrivo, who has a form of muscular dystrophy and relies on a power wheelchair and a ventilator.
"I was told my disability was too scary for people to be around in the workplace," Scrivo says.
Nonetheless, through unwavering persistence, hard work and interview tact, Scrivo achieved her dream of writing for a living and landed a great job in the PR department of Kessler Foundation, an organization that funds medical research and programs for people with disabilities.
We talked with Scrivo about how she successfully overcame discrimination and ignorance and landed an awesome job.
1. Educate the Interviewer about Your Disability
The Americans with Disabilities Act makes it illegal for a prospective employer to ask anything about a disability but it's only natural for employers to have questions and concerns. It's actually in your best interest to address your obvious disabilities in the interview.
"Employer education is half of the battle when getting through the interview process in the hopes of landing a job," Scrivo says.
Most of the time, they imagine that the situation is much worse than it actually is. Welcome questions from the employer, but be aware of the difference between acceptable and inappropriate questions. If the interviewer is rude and critical about your disability, you can report your interviewer.
"For example, I consider 'How will you perform the tasks of this job' an acceptable and normal question," Scrivo says, "However, 'How can you type when you can't even lift your arm up? Will it take you forever' is discriminatory and unacceptable and should be reported."
2. Ease Their Fear and Disclose Any Accommodations You Need
In the interview, be clear about how you can do the job and, most importantly, what strengths you will bring to the position.
Scrivo says she might tell an interviewer, "I'm very proficient with typing and use a sling that attaches to my chair. To interact with others, conduct phone calls, and interview subjects for articles, I have an aide with me that repeats exactly what I say after me and handles my other medical needs," she says. Be clear and transparent.
John Irwin works with Project Connect, an organization funded by Kessler Foundation. Irwin, who has  a disability, successfully places veterans with disabilities in jobs.
His most important tip for disabled job seekers is to: "Educate yourself on the accommodations that you need and how you can assist the employer with meeting those needs," he says, "You want to show them that you want to be part of the team but you also need to be your own best advocate."
3. Never Stay Idle
Scrivo emphasizes the importance of using the time that you can't find a job to further your education, do volunteer work in the field you're trying to get in to and complete internships in your field.
"I was interested in a writing career, so while in college, I interned for a state assemblyman where I researched state education statistics and drafted proposals for policy reform," she says. "I also found websites that would allow me to write articles on various websites."
To stay active after graduation, Scrivo volunteered in the public relations department of local nonprofit, tutored students in writing and went for a master's in communication. Eventually, she interned at the Kessler Foundation, which turned into a full-time job as a communication specialist.
There are internships in nearly every field, she says. For instance, the Kessler Foundation awards grants to organizations such as the Washington Center and the National Disability Institute to provide internships in the federal and financial industry.
All job seekers can take a lesson from Scrivo: Stay persistent and stand out!