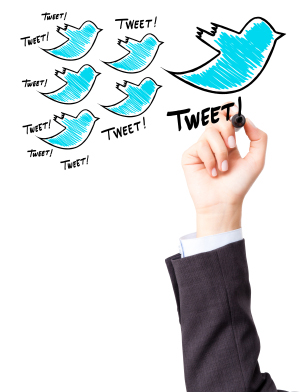 We took a Bliss Poll recently asking our CareerBliss community "Do you use Twitter as part of your job search?"
Of the more than 500 people who have taken the poll, nearly half said "I have no idea how to use Twitter for job searching," and 41 percent said "No, Twitter is totally useless in my job search."
OK, OK — we understand why skeptics might raise an eyebrow and roll their eyes at using the same forum as hey-look-at-me celebrities – like Kim Kardashian -- who share an obscene number of self-portraits.
But Twitter is so much more than that. (And you don't have to follow Kim Kardashian.)
"Twitter is one of the most powerful conversational networking platforms out there that make it easy for individuals to keep track of others within the industry, employers, and industry news publications," says Jonathan Nafarrete, director of social outreach at BLITZ Agency.
Here's how you can use Twitter as a job searching tool:
1. Find Relevant, Helpful Tweeps
Professionals at the top of your field are Tweeting cool, valuable information right now—and you're missing it! The easiest way to scope out credible people that are most relevant to you is by searching similar job titles and industries. So, if you're looking for a finance job, search "finance." Then, on the left hand side, click "people" to find everyone who has listed "finance" in their bio.
After you add your favorite folks, take a look at who they're following to get leads on more interesting people. Also, check out 10 Career Experts You Need to Follow on Twitter & 10 Internship Experts to Follow on Twitter to fill your feed with valuable career advice. Oh and @CareerBliss, of course!
2. Use Hashtags to Find What You Need
It's not about simply adding a #hashtag #to #everything #you #type. It's about using hashtags that are actually searched a lot. Here are some job searching hashtags that can pull up valuable information for any job seeker:
#hiring
#nowhiring
#jobsearch
#jobadvice
#HR
#career
3. Jump into a Twitter Chat
Since everything happens in real-time, Twitter is a great way to conduct live conversations with people you might never be able to otherwise. Twitter Chats are a live, Q&A session that typically discuss specific niche, industry issues.
There are Twitter Chats for just about everything under the sun: From career advice to project management.
Try to Google and look for Twitter chats that are relevant to your area of expertise. Usually, one moderator asks questions (Q1, Q2, Q3) and any Tweeps can answer (A1, A2, A3). It's usually an hour-long discussion once a week. Check out 4 Twitter Chats Every Job Seeker Should Know.
4. Engage and Network
The single best way to use Twitter as part of your job search is by Tweeting "smart stuff and useful links around the job or industry you're looking for," says Jason Falls, CEO of Social Media Explorer, a digital marketing and education products company.
Then, use this insightful information to get conversation and engagement going with other Tweeps. To help you engage, Nafarrete suggests creating Twitter lists of employers, employees, industry thought leaders and publications in your industry. But don't stop there.
"Actually engage in conversation with individuals and employers and share (retweet) content in that industry thought leaders or publications may be posting," he says. You might even find a networking event in your industry—allowing you to take your Twitter networking offline.
Dustin Luther, director of social media at Dun & Bradstreet Credibility Corp would agree and suggests: "Look for opportunities to meet up with these industry influencers in-person through Tweetups and other twitter gatherings."
5. Use Twitter to Keep Tabs on Jobs
More and more employers are using Twitter as part of their recruitment. The #nowhiring, #jobs and #hiring hashtags mentioned earlier are a great way to keep tabs on the most recent job openings in real-time. Also, the Undercover Recruiter did a cool list of 140 employers who are Tweeting their hottest, newest positions every day in real-time. Keep tabs on your favorite companies!
Along with hashtags like #jobs #nowhiring to scope out hottest positions, you can also look at TweetMyJobs and TwitJobSearch for more streamlined positions relevant to you.
If you have a list of dream companies, add them on Twitter—" Most major companies, and many minor ones have Twitter feeds, and some of them are savvy enough to have a specific Twitter handle for their recruiting or human resources department," says Brie Reynolds, social media manager at FlexJobs.
The opportunities on Twitter are limitless — but not if you create an account and stare at an empty screen and a lonely Twitter bird!
CareerBliss community, please fill us in on any super handy tricks we might have missed on making the most of Twitter in your job search!